We arrive at dusk to Hemingway's Bangkok and note the bungalow literally glowing. Not just from warm lighting illuminating its frame, but too as a result of the rare golden teak wood from which it was constructed in the 1920's. This beautiful, near century old bungalow, oozes character in its diversity of rooms and verandahs, and in its short two year lifespan has become one of the most popular restaurants and bars on the Sukhumvit strip.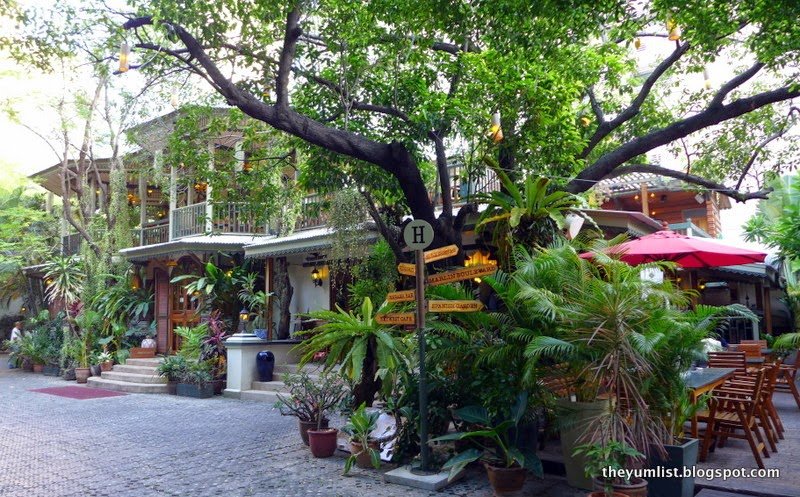 Hemingway's Bangkok, Thailand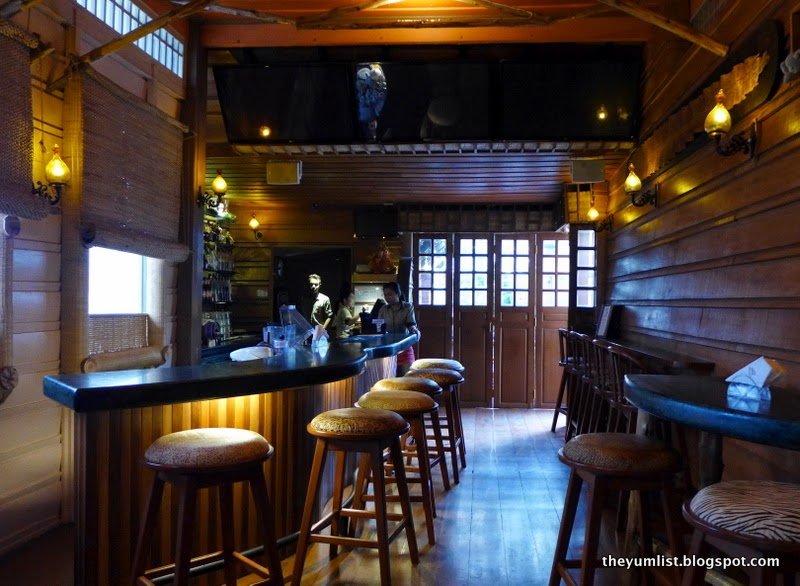 Upstairs Bar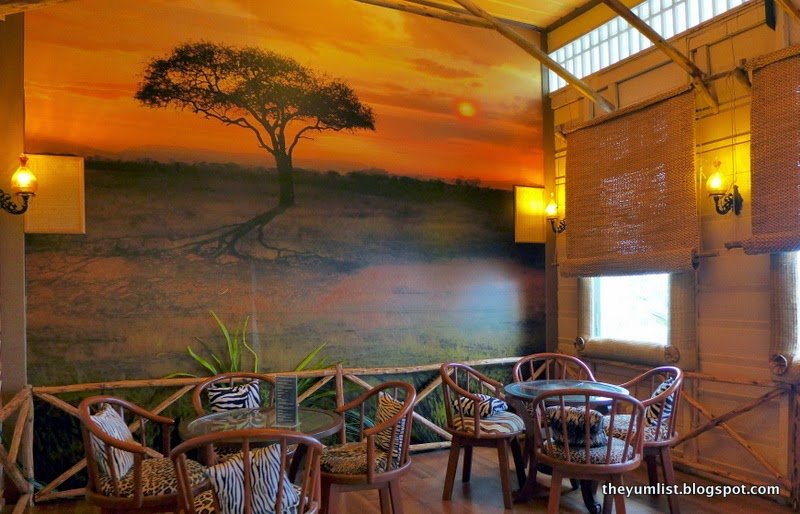 Savannah Themed Lounge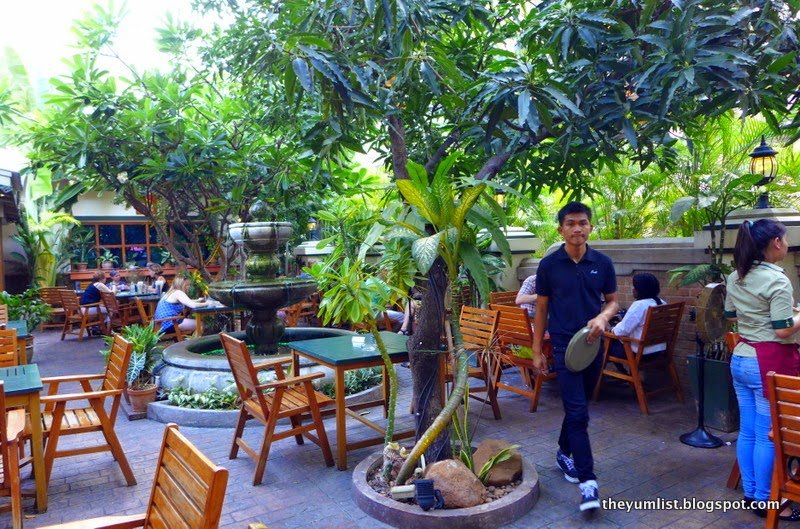 Beer Garden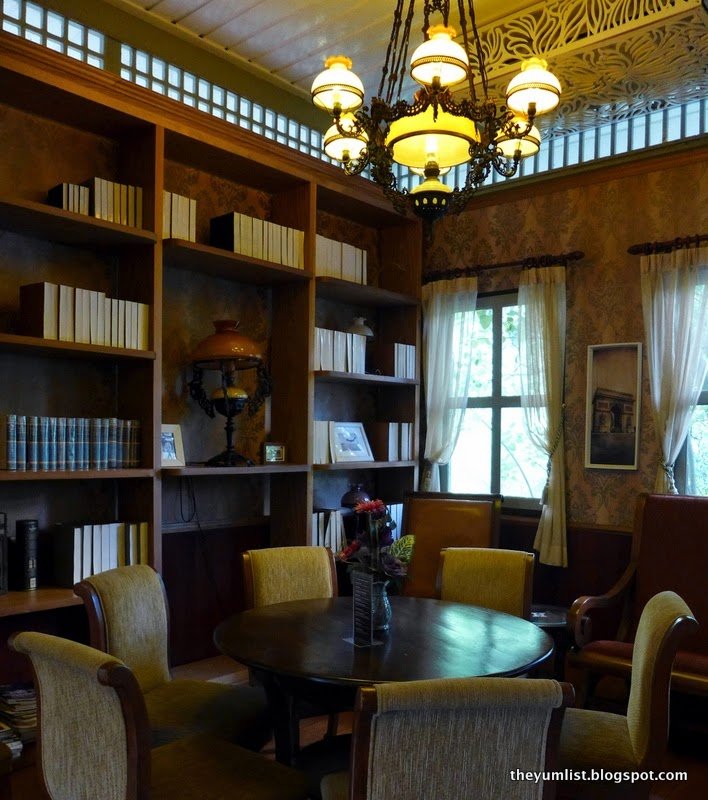 Quieter Dining Area Upstairs
Embracing an attitude of gusto for living and tasting life to the fullest, Hemingway's Bangkok mirrors the man himself's thirst for adventure and delight in travel by playing host to cuisine and beverage from around the world.
Signature Drinks
Some of Hemingway's favourite watering holes were in in the Caribbean and as such, the bar fabricates some of his best loved from the region. The recipe for Hemingway's Classic Mojito (THB240) comes from the birthplace of the drink, La Bodeguita del Medio in Havana, Cuba. It's a simple concoction of white rum, muddled with fresh mint leaves, lime wedges and raw sugar. It's a real thirst-quencher just as well suited to Bangkok's sweltering climate is it is to Cuba's. The writer's handwriting can still be found on the wall of the bar today, "My Mojito in La Bodeguita, My Daiquiri in El Floridita."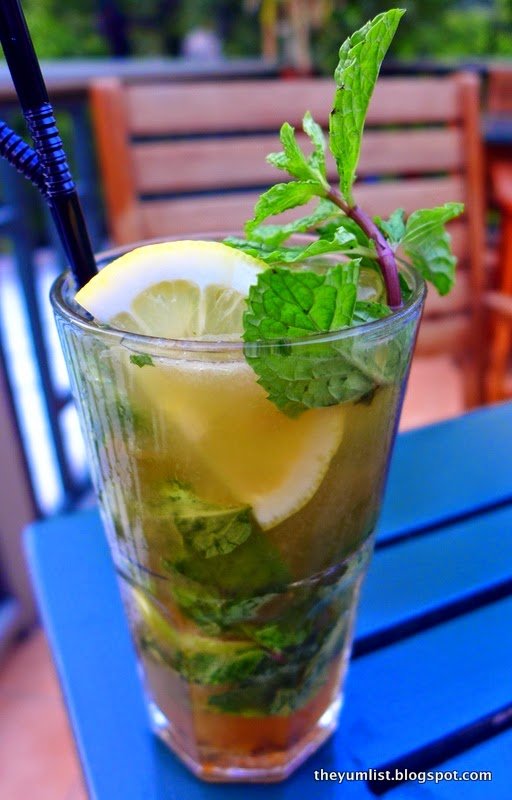 Hemingway's Classic Mojito
Mojito: check. Now what about that daiquiri? It's represented here too in Hemingway's Papa Doble Daiquiri (THB240). White rum is poured over cracked ice in a highball glass, with the juice of two limes, a grapefruit, and Maraschino cherry liqueur. The vibrant rose tinted mixture proves just as refreshing at the first, but a touch more syrupy.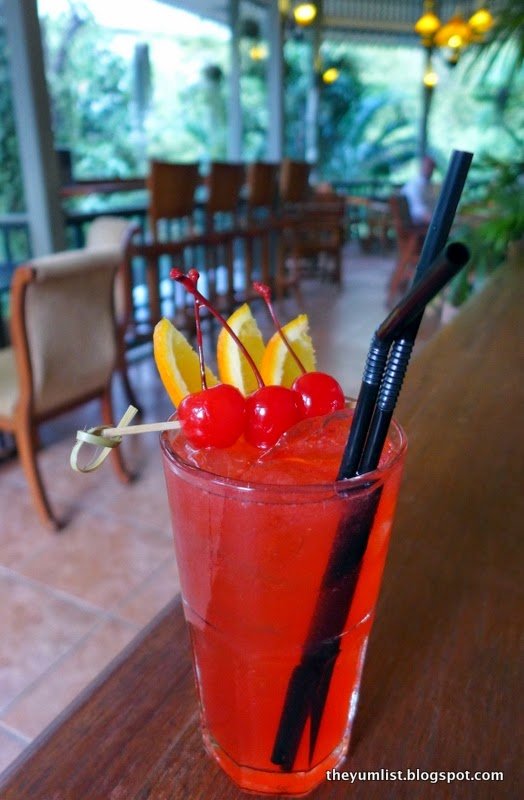 Hemingway's Papa Doble Daiquiri
A whole page of the menu is dedicated to Martinis. The classics, prepared with your choice of brands of gin and vodka, made Naked, Olive, with a Twist, Gibson and Dirty, cover the bases, while a range of intriguing flavours boost the selection. We try the Almond Latte Martini (THB240) with Amaretto, Kahlua, milk and a sprinkling of nutmeg on top. It's surprisingly refreshing for a milk-based drink, definitely warranting a repeat order.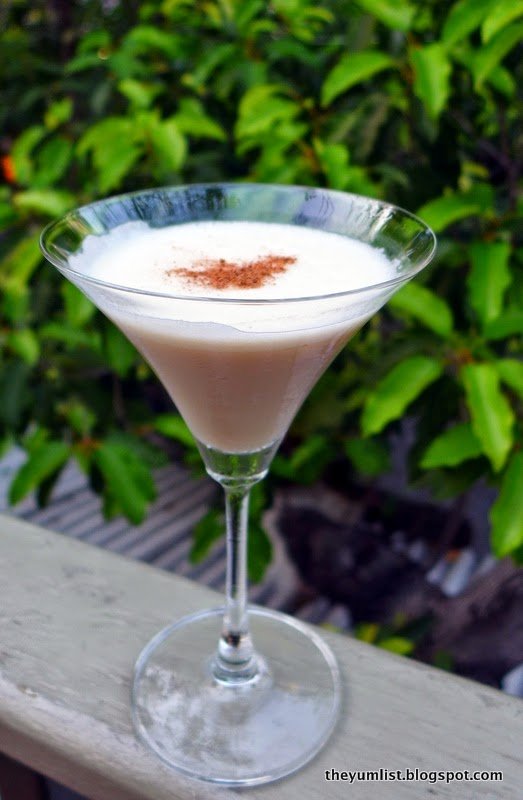 Almond Latte Martini
Food
Quite an extensive menu covers western comfort dishes and a few Latino favourites. We're encouraged by our picturesque perch on the upstairs patio, surrounded by green, and with the mood of summer fun, so we decide to keep our meal light with some snacks and finger food.
Our waitress convinces us to have the Calypso Prawn Cocktail (THB295) as she assures us it's very pretty and will make an attractive photo.  Beer poached jumbo prawns (cooked faultlessly BTW) and horseradish cocktail sauce fill a large glass ringed with cherry tomato slices. A tangle of leafy greens crowns it all and a squeeze from a large wedge of lemon completes the composition with a light uplifting tang.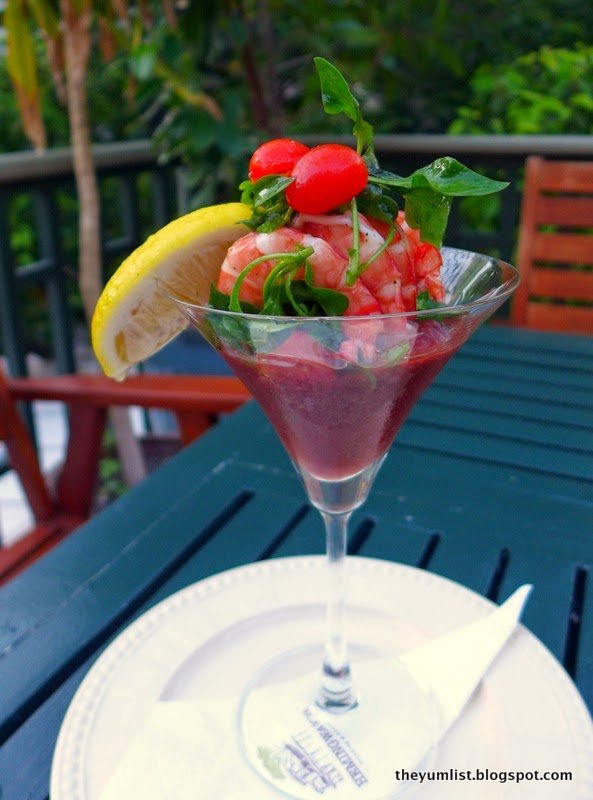 Calypso Prawn Cocktail
Once hubby sets his eyes on the Yuca Frita con Mojo (TBH130) it becomes an inescapable order. Fried cassava root (a beloved dish from his Caribbean home) comes scattered with halved cherry tomatoes, red onion and a coriander and lime salsa. The soft interiors and crisp surface of the root vegetable don't disappoint and the deep basket of deep-fried sticks doesn't take too long to disappear. These make great bar snacks and can easily be shared amongst a group.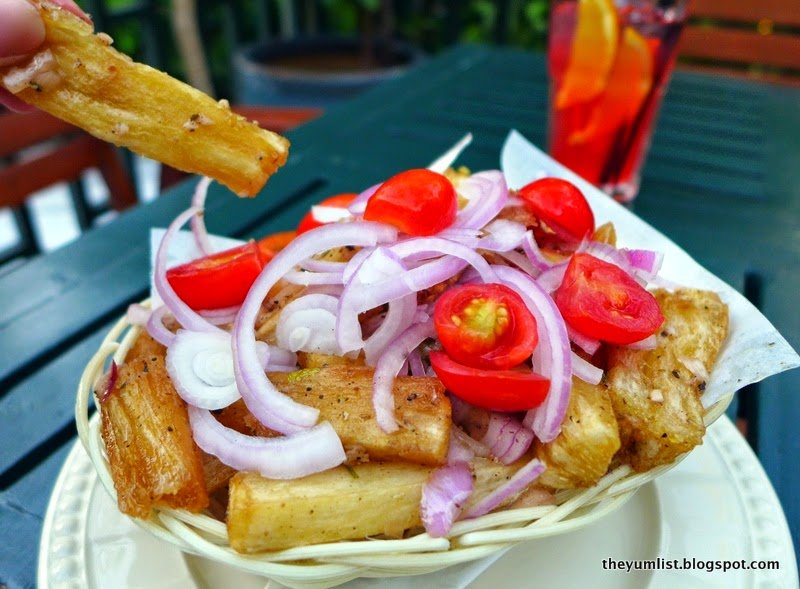 Yuka Frita con Mojo
The Cold Cut Board (THB395) makes a fine accomplice to our cocktails, but would also make a sound justification for a bottle of wine on our next visit. Salami, Parma ham, Langjager sausage, home baked baguette and focaccia, blue cheese, Manchego, a European soft cheese, dried fruit and spiced mango chutney cover a considerably sized wooden board. The alternatives seem endless and, these delicious items prove happy pickings for a good passage of time.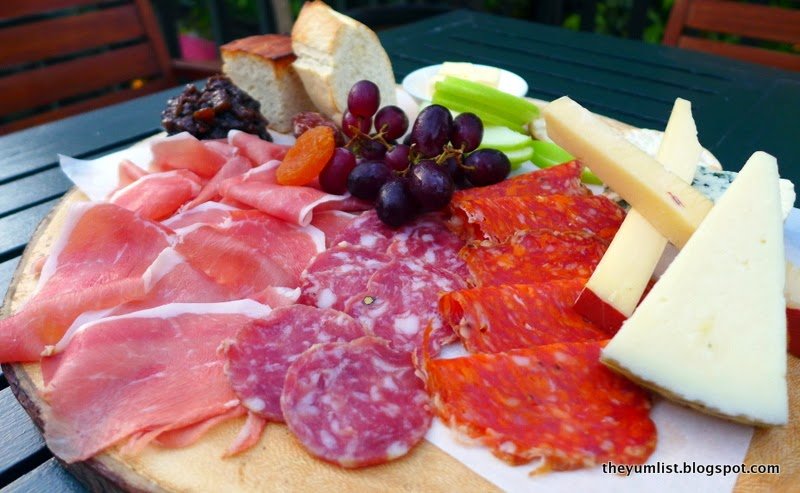 Cold Cuts Board
Portions are definitely of sharing measurements and we think good value for money. Cocktails too have been admirably assembled. Good food and drinks, combined with the charm of the colonial teak mansion have set Hemingway's Bangkok on a steady pathway to success. We arrived early purposefully aiming to avoid the crowds, but by 6:30pm most tables are already full and there continues to be a steady stream of people rolling in. Come early, or make a reservation as Hemingway's Bangkok is a table you don't want to miss.
Reasons to visit: great ambiences (numerous indoor and outdoor areas to suit a range of needs – our favourites are the upstairs open-air balcony and downstairs beer garden; Classic Mojito; Almond Latte Martini; good value appetizers, cold cuts and cheese boards.
Hemingway's Bangkok
1 Sukhumvit Soi 14
Khlong Toei, Bangkok 10110
Thailand
02 653 3900