Sydney is thought of by many as a foodie's heaven, however it's all too easy to get caught in the 'tourist traps' and miss the best the city has to offer altogether. The Yum List gets advice from local foodies and finds the top Sydneyite places for java, imbibement and cuisine. So here's The Yum List's pick of:
The Best Spots to Eat and Drink in Sydney
Organic Bread Bar
On a tree lined road behind busy Flinders St. you'll be drawn by the smell of freshly baked bread and freshly brewed coffee to the Organic Bread Bar. This popular local haunt invites you to take your baked goods to go or stay and enjoy in-house on odds and ends of recycled bits of furniture. A seat in the back provides entertainment free of charge with a clear view of the bakery work area. Don't miss the Spelt Scones – soft lumps of dough mixed with fresh berries and topped with sugared slivers of almonds. So moist (for a scone) and flavourful with the fruity additions no jam or cream are necessary.
Organic Bread Bar
365 South Dowling Street
Sydney Paddigton
NSW 2021
Australia
info@organicbreadbar.com.au
An amazing selection of local and imported cheeses. If you can't find the cheese you're looking for here it's probably not available in Australia. All products convenient for take away, but the option of enjoying in house with a glass (or bottle) of wine completes the experience.
Ocello Cheese Specialist
Shop 16/425 Bourke Street
Surry Hills
NSW 2010
Australia
+61 02 9357 7878
carmelo@ocello.com.au
sogna@ocello.com.au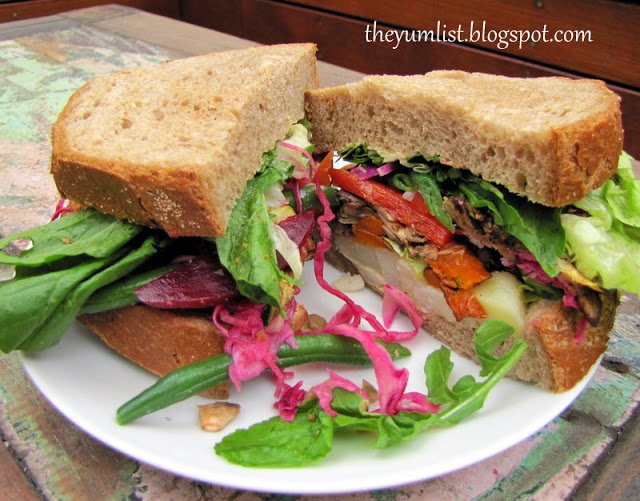 Vege Sandwich – Hummus, potato salad, caramelized carrots, mushroom, lentils, cucumber, capsicum, green beans, red cabbage, grilled eggplant, grilled zucchini, beetroot, lettuce and rocket – South Dowling Sandwiches, Darlinghurst
South Dowling Sandwiches
Look for the corner store with the queue. This sandwich shop can get busy during lunch hours but be assured the production line of girls putting together your order is impressive. Enormous slices of spongy bread hold together giant size layers of ingredients. Extremely fresh and made exactly how you like it. These monstrosities are easily shared or purchased with the idea of half for now and half for later. Tiny tables and stools on the corner or inside are cosy areas to demolish your monster.
South Dowling Sandwiches
377 South Dowling St
Darlinghurst, Sydney
NSW 2021
Australia
+61 02 9360 9355
southdowling@tpg.com.au
Sweet Art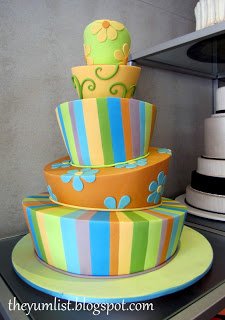 Sweet Art, Paddington
This is THE place to purchase made to order cakes. With a reputation of being one of two places in the entire city of Sydney to get your cake, it's a must visit. This enormous pot of Vegemite (chocolate mud cake) not only looks amazing but the taste too is incredible. DENSE rich cake tightly encased with layers of thick chocolate icing. But budget conscious beware! For an incredible cake, such as the one pictured above, you're looking at a cost of at least $500 AUD.
Sweet Art
96 Oxford Street
Paddington, Sydney
NSW 2021
Australia
+ 61 2 9361 6617
anthea@sweetart.com.au
www.sweetart.com.au
This small supermarket sells beautiful fresh produce, meats, pre-made meals, divine newly squeezed juices and a spread of gourmet goodies. Conveniently located on the main drag of Oxford Street in Paddington, it's a mouth watering temptation to buy some groceries and eat at home.
Paddington Fresh Foods
348 Oxford St.
Paddington
NSW 2021
Australia
+61 (0)2 9360 6407
Chocoholics unite at Max Brenner on Oxford St. in Paddington. Greeted by a giant whirling pot of melted chocolate you'd be forgiven for believing you'd won the golden ticket and entered Willy Wonker's Chocolate Factory. As you might imagine, everything is what to order. Hubby adores the variety of hot chocolate and especially loves the white blend with a dash of coconut flavour. Next door is a small park so it's nice to take away a hot cup, sit outside and feel the contrast of cool air against the steaming sweet liquid.
Max Brenner
Chocolate by the Bald Man
Oxford St.
Paddington
+ 61 02 9357 5055
www.maxbrenner.com.au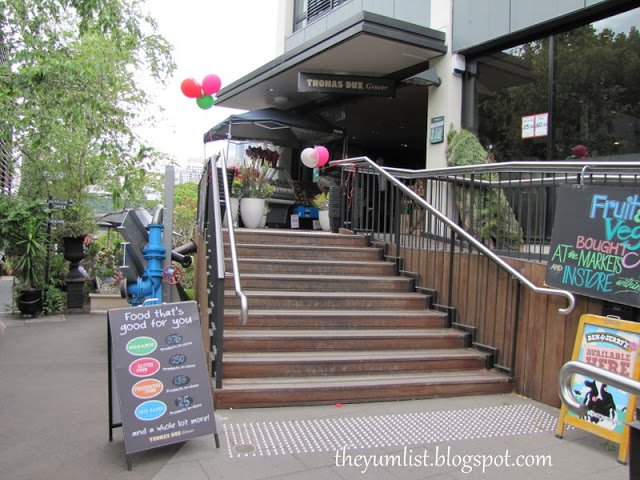 Thomas Dux Grocers, Surry Hills
Thomas Dux Grocers
This lovely store is just off Crown St and located next to the Winery (a popular place for a good drop anytime of day). Stocking gourmet delights and only the best produce, foodies will drool over the shelves and leave with their wallets much lighter or their credit cards maxed.
Thomas Dux Grocers
285A Crown St
Surry Hills
NSW 2010
Australia
+61 (0)2 8354 0388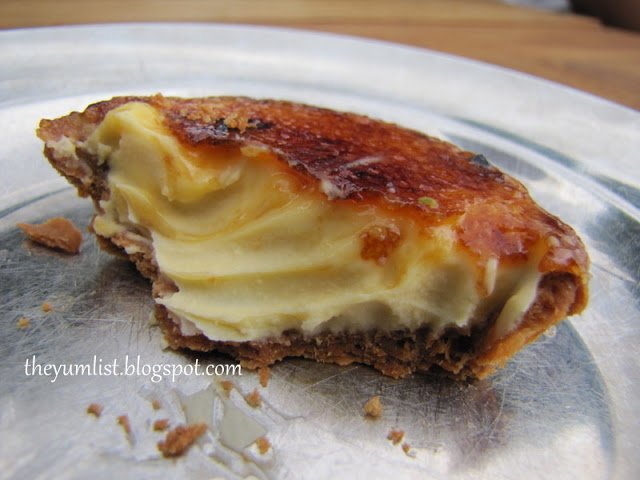 Ginger Creme Brulee Tart, Bourke Street Bakery, Surry Hills
Bourke Street Bakery
This little corner shop, in the residential neigbourhood of Surry Hills, is famous for its baked goods. Come anytime of day and you will see a hoard of folks hanging out at the junction. The Ginger and Pistachio Creme Brulee is one of their signature pastries and a must try.
Bourke St Bakery
633 Bourke Street
Surry Hills, NSW
Australia
+61 02 9699 1011
info@bourkestreetbakery.com.au
www.bourkestreetbakery.com.au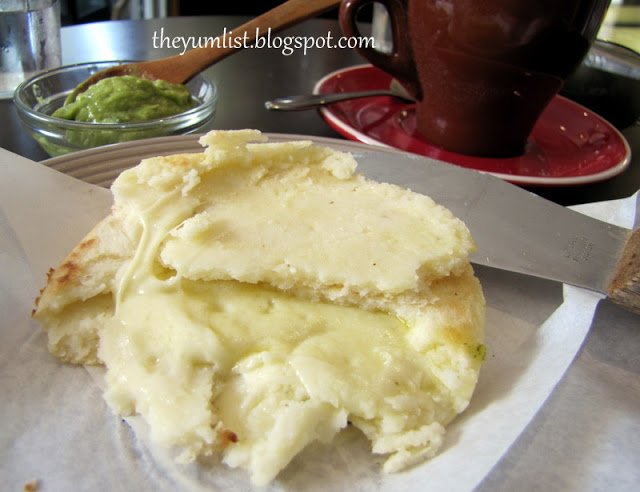 Arepa with Guacamole and Coffee, Cafe con Leche, Surry Hills
Cafe Con Leche
Delighted to find arepas (South American unleavened dense bread filled with any mix of savoury stuffings) we could have stayed all day in this petite corner cafe. Warmed by the sounds of Spanish and scented with a strong brew of Colombian coffee the cafe had an adventure traveler's feel as random customers at adjoining tables struck up conversation with us. For hubby it proffered a feeling of home, for me, delicious memories of a culturally vibrant life and the magic of the southern continent.
Cafe Con Leche
104 Fitzroy Street
Surry Hills
NSW 2010
Australia
+61 02 9331 8157
cafeconleche.com.au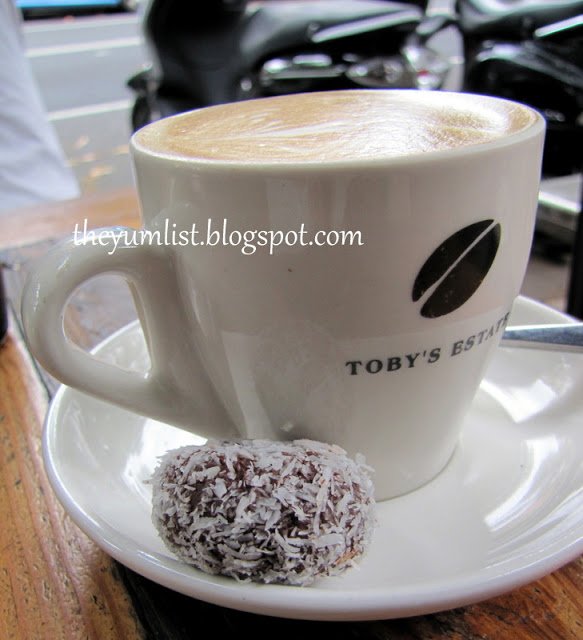 Rich Chocolate Truffle and Toby's Estate Flat White, O Cafe Surry Hills
O Cafe Surry Hills
As you might have guessed, O Cafe sells organic food and drinks. On a tree lined street in Surry Hills, the outdoor tables are popular spots for a tasty guilt free treat accompanied by a well-liked-by-Sydney-siders coffee by Toby's Estate.
O Cafe Surry Hills
487 Crown Stree
Surry Hills
NSW 2010
Australia
+61 02 9319 4009
sales@organicproduce.com.au
Open Monday to Saturday, 7:30am – 4:30pm
Sunday, 8:30am – 3:30pm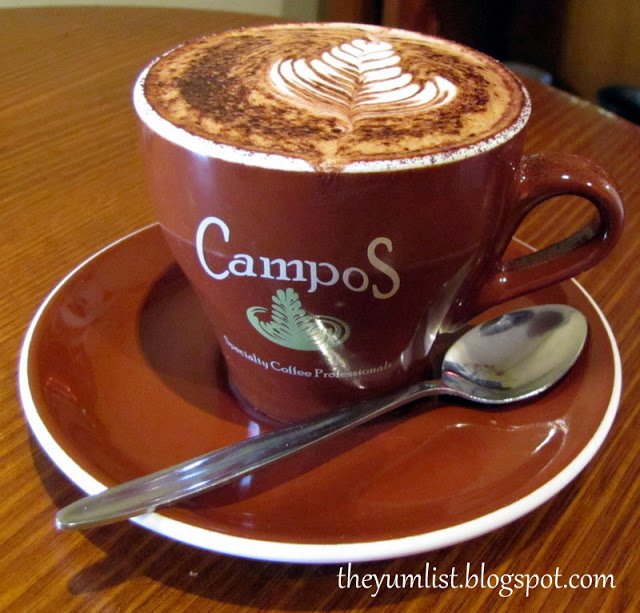 Campos Coffee, all around Sydney
Campos Coffee
This store was in Newtown, however Campos Coffee can be found all over Australia. Another favourite for Aussie taste buds made by experts who take their java very seriously.
Campos Coffee
193 Missenden Road
Newtown
NSW 2042
Australia
newtown@camposcoffee.com
www.camposcoffee.com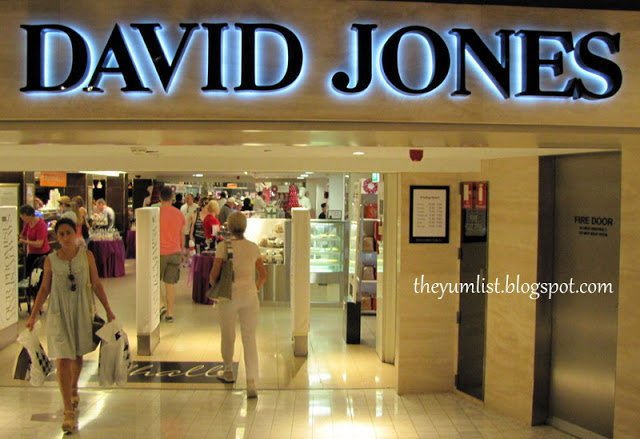 David Jones, Pitt St. Mall, Sydney
David Jones
The food section in David Jones (a large upscale department store in Australia) is like no other. A few hours could easily be spent browsing around their gourmet offerings and calculating how much money you're really willing to give up for food. When you're done, head upstairs to the Westfield Food on Five, for another ritzy, not the usual, food court experience.


David Jones
Pitt Street Mall
Sydney
NSW 2000
Australia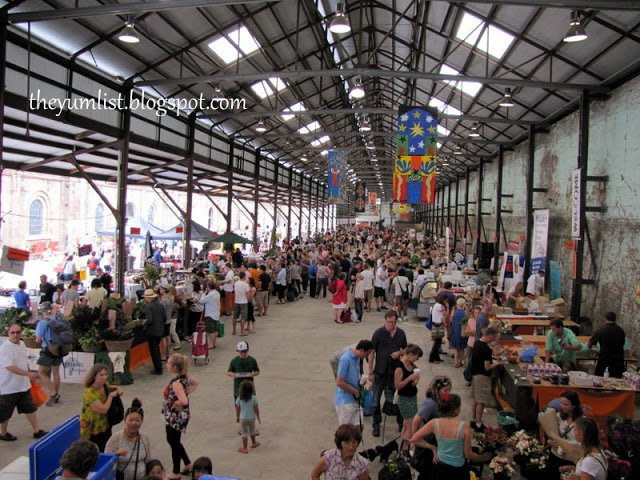 Eveleigh Markets, Redfern
Eveleigh Markets
Saturdays, 8am to 1pm sees foodies flock to the old Blacksmith's Workshop adjacent to the Carriageworks (which is now a trendy gallery and art space) for the Eveleigh Markets. Home grown, organic and cottage businesses dominate the stalls. Expect to find fresh produce from regional farms and home made cheeses, wines and other delights. This just might be the best market I've been to in Sydney…
Eveleigh Markets
243 Wilson St, Darlington NSW 2008
[near Redfern Station]
+61 02 9209 4735
www.eveleighmarket.com.au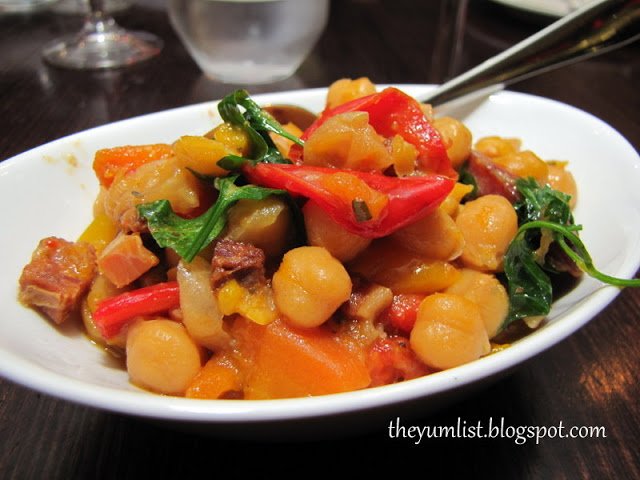 Chick Pea and Chorizo Stew, Fix St. James, Sydney


Fix St. James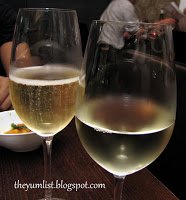 Happy Hour at Fix St. James
Fixt St. James is the best place we've found for happy hour in Sydney. Arrive between 5 and 6pm and you'll receive a cider from the Hunter Valley and small plate on the house with your order of a drink. You'll find their wine menu worth traveling for and not on the shelves of any liquor store in the city. In their own words, they are "… dedicated to the hands-on makers, the small growers, the crazies and the fanatics…" The food's not bad either.
Fix St. James
111 Elizabeth Street
Sydney
NSW, 2000
Australia
+61 02 9232 2767
eat@fixstjames.com.au
www.fixstjames.com.au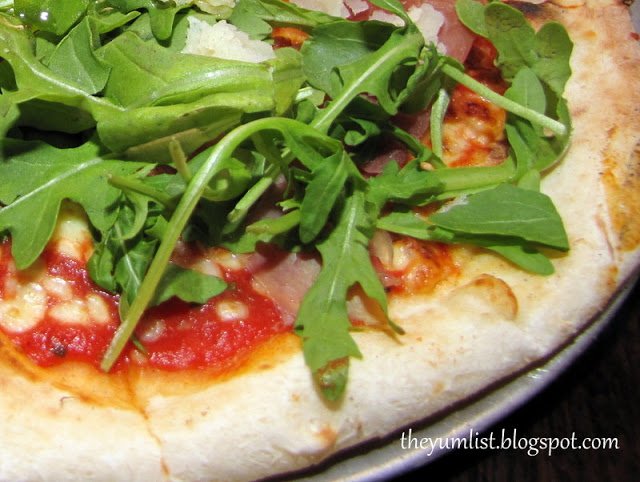 Fratelli Fresh, Sydney
Fratelli Fresh
With access through a modest entrance off the main street, you would never guess the excitement brewing downstairs in Fratelli Fresh. Coming from the humble entrance then viewing the swag of buzzing patrons within, leaves you feeling that you've stumbled across a secret underworld. Open kitchen, dimly lit, packed tables and a rustic, unpretentious ambience sees chefs serving up uncomplicated, tasty Italian classics with reasonably priced wine too. (Actually, at $3.50 a glass for their house white, it was the cheapest restaurant we found to drink wine in the city centre.) Reservations are not accepted, but the crowd seems to move quickly so it's usually not a problem to get a seat.
Fratelli Fresh
11 Bridge Street
Sydney
NSW 2000
Australia
+61 02 8298 2701
www.fratellifresh.com.au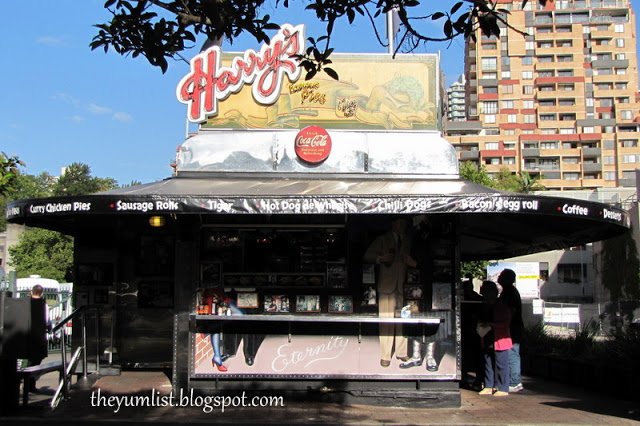 Harry's Cafe de Wheels, Potts Point
Harry's Cafe de Wheels
No visit to Sydney is complete without a trip to the iconic Harry's Cafe de Wheels. Now, (sadly in my opinion) found in various locations around Sydney, the original institution in Woolloomooloo is the one to visit. Just as famous for its pies with mushy peas as it is for being the spot to sober up early hours after a big night out in the Cross, Harry's Cafe de Wheels is a short walk from the backside of the Botanic Gardens and nearby a few local pubs. A beer before your bite or vise versa sews up a truly Aussie experience.
Harry's Cafe de Wheels
Corner Cowper Wharf Roadway
& Brougham Road
Woolloomooloo, NSW 2011
Australia+61 (02) 9357 3074 
enquiries@harryscafedewheels.com.au
www.harryscafedewheels.com.au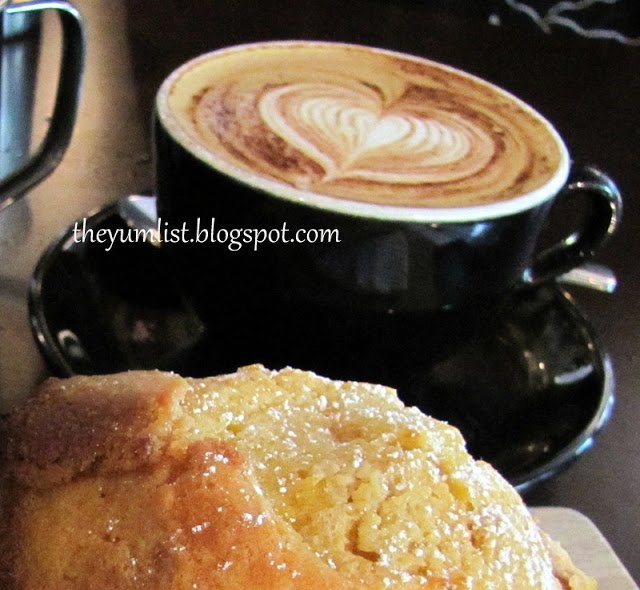 Joe Black, Sydney
Joe Black
Don't miss the coffee here! It's awesome! Service is fast and crowds just keep on coming. It's a spot to be alert – not ideal for a relaxed laid back morning, but more of a vibrant caffeine filled adventure.
Joe Black
27 Commonwealth Street
Sydney
NSW, 2000
Australia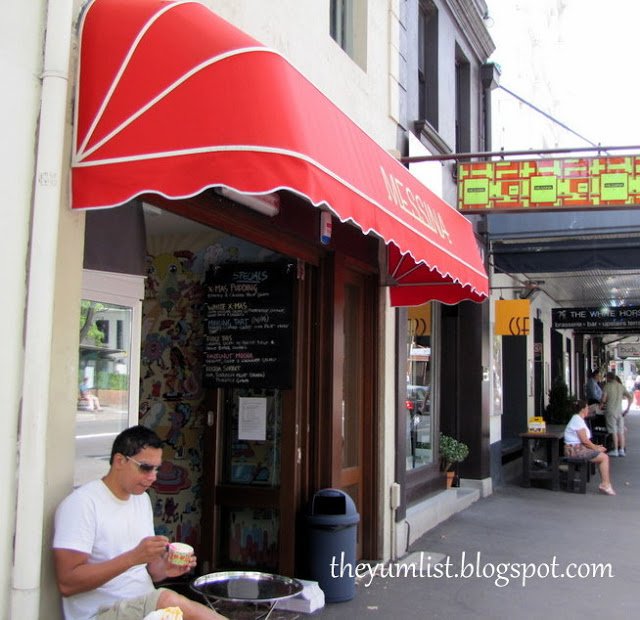 Messina, all around Sydney
Messina Gelato
Messina Gelato is known among Sydney siders as one of the best ice creameries in town. Popular flavours include Salted Caramel and White Chocolate, but there are a range of more exotic tastes too such as the Feijoa Sorbet (known as the Brazilian bubble gum fruit). With over 40 varieties to choose from and, boasting no artificial colours, flavours or preservatives, you might be tempted to have more than just one.
Messina Gelato
Shop 1/241 Victoria Street
Darlinghurst
NSW 2010
Australia
+61 02 8354 1223
info@gelatomessina.com
www.gelatomessina.com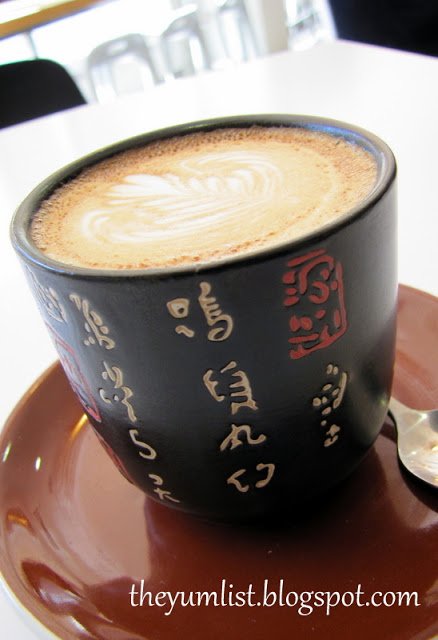 The Fine Food Store, The Rocks
The Fine Food Store
Tucked off in a side street of The Rocks, this locale is frequented by locals in the know and lucky tourists who happen to stumble across it in their Rocks shopping adventures. Serving up a playground of gourmet pleasures, don't miss a finely made cup of java on a brightly sunlit table with a browse of a magazine from their fully stocked shelves. Expect wholesome goodness with items from the menu such as the Baked Mushroom Toastie on Rye and Fresh Goats Curd, Rocket and Caramelized Balsamic on Ciabatta.
The Fine Food Store
Corner of Kendall and Mill Lane
The Rocks
NSW, 2000
Australia
+61 02 9252 1196
hey@finefoodstore.com
therocks@finefoodstore.com
finefoodstore.com
Open Monday to Saturday 7am – 5pm
Sunday 7:30am – 5pm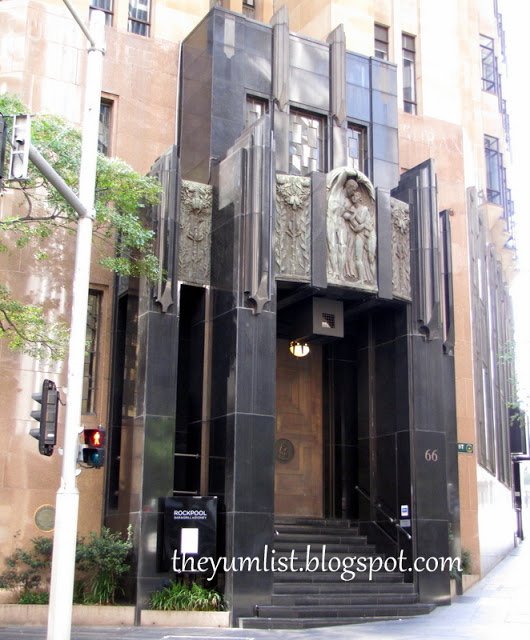 Neil Perry's Rockpool, Sydney
Rockpool Bar and Grill
Okay, so it's not exactly off the tourist path and not what I had in mind when I said the lesser known joints where only the locals eat… but… it is celebrity chef Neil Perry and it is worth a visit. If not for the food, then for a peak into the skyscraper art deco style dining room. Known for its steaks and for sourcing only the best ingredients in the country, you are guaranteed that your beef contains no growth hormones or antibiotic feed supplements. For amusing pre-dinner entertainment, read the first page of the drinks menu outlining appropriate behaviour in the sophisticated bar – clearly written with rough Aussie blokes in mind who could do with a little lesson on courteousness in polite company.
Rockpool Bar and Grill
66 Hunter Street
Sydney
NSW 2000
Australia
+61 02 8078 1900
info@rockpoolbarandgrill.com
www.rockpoolbarandgrill.com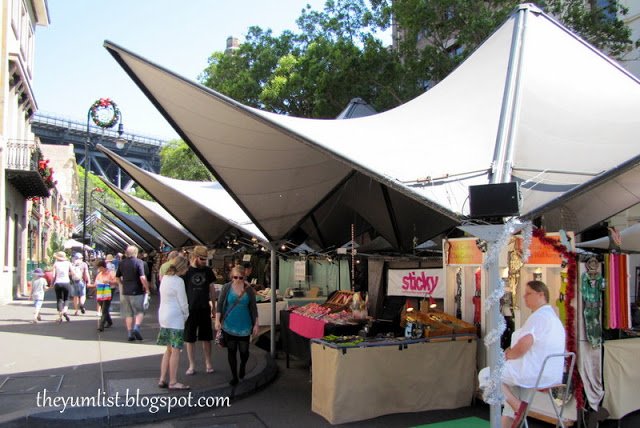 The Rocks Weekend Market
The Rocks Weekend Market
Original clothing designs, one off jewelry creations and whole host of creative inspiration can be found every weekend at The Rocks Markets. Not to be missed are the Friday Foodie's Market, but do check the website for running times as generally the cuisine section takes a break over Christmas and New Year.
The Rocks Weekend Market
The Rocks
Sydney, NSW
Australia
10am – 5pm Friday – Foodies Market
10am – 5pm Saturday and Sunday Market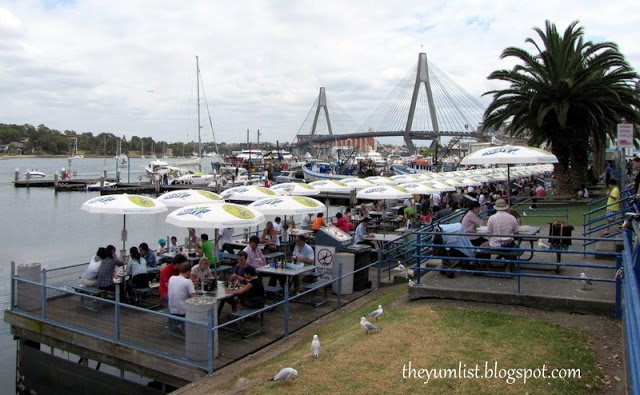 Sydney Fish Markets
Sydney Fish Markets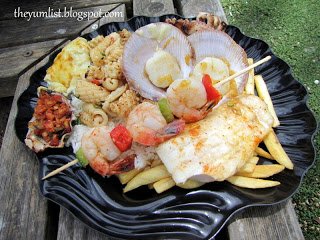 Grilled Seafood Platter, Sydney Fish Markets
Okay, yes this is another 'touristy' location but you can't beat fresh seafood from Aussie waters. An immense selection of fish and crustaceans draw the crowds daily. Overlooking the water and Anzac bridge, tables are often packed over the lunch hours so go early or pull up a piece of grass.
Sydney Fish Market
Bank Street
PYRMONT   NSW   2009
+ 61 2 9004 1100 fishline@sydneyfishmarket.com.au
www.sydneyfishmarket.com.au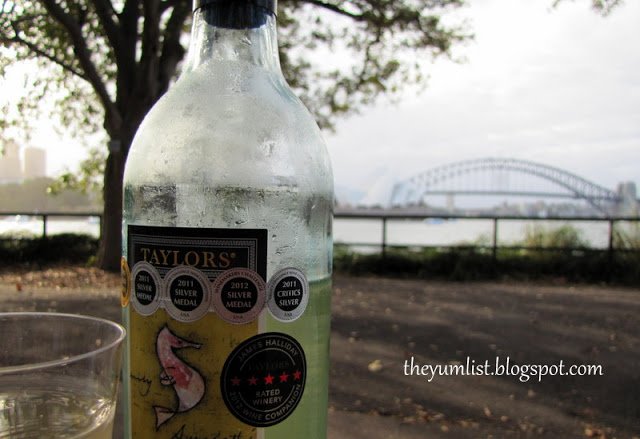 Botanical Gardens, Sydney
Botanical Gardens Sydney
Dining out is not the cheapest thing to do in Sydney but that doesn't mean you can't dine and enjoy the best views in the city. Grab a good Aussie wine from the local bottle-o, a few cheeses, breads and seafood from the grocers and head down to a park bench at Mrs. Maqaurie's Chair or the Botanical Gardens for magnificent harbour vistas.
Botanical Gardens
Sydney
NSW, 2000
Australia
Harris Farm Markets, King's Cross
Harris Farm Markets
Local, organic, wholesome, supporting small suppliers and cottage industries, Harris Farm Markets is a foodie's heaven and, I might dare to say, my favourite supermarket in the city.
Harris Farm Markets
The Village Centre
Lower Ground Level
24-30 Springfield Ave
Potts Points, NSW
Australia
+61 02 9394 3220
harrisfarm.com.au
Open Monday to Sunday, 7am – 10pm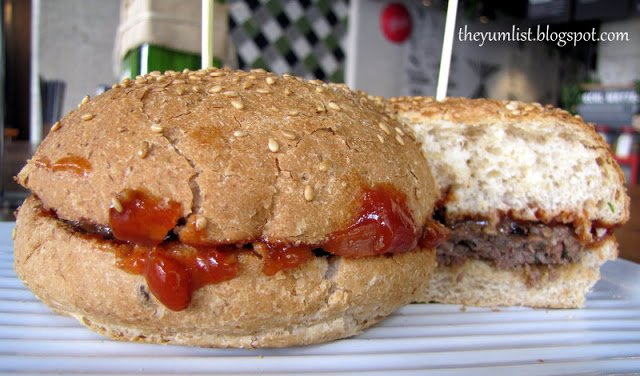 Mini Moo Burger, Grill'd Healthy Burgers
Grill'd Healthy Burgers
Grass fed beef (yay!) is used to make lean tasty patties which are then gloved with either fluffy wholemeal or crusty ciabatta buns. A blob of home made relish makes these babies the perfect afternoon pick-me-up or hangover pacifier. Above pictured is the most basic burger of all, the Mini-Moo, but you can add whatever condiments and extras you like to customize your meal.
Grill'd Healthy Burgers
241 Crown Street
Darlinghurst, NSW
Australia
+61 02 9380 4800
grilld.com.au
Single Origin
Coolness oozes from this location. With a reputation for roasting some of the best beans in the country, Single Origin must be on every coffee lover's list to try. Videoed above, is the end of year party featuring the outlet manager tapping up a storm on the truck top. Single Origin, you make me love Sydney even more.Single Origin
54 – 64 Reservoir Street
Surry Hills, NSW 2010
Australia
+61  02 9211 0665
info@singleoriginroasters.com.au
For more of The Yum List's recommended eating spots in the city, type in
Sydney
in the search box in the top right hand side of the blog to see the results of last year's visit.