Words: Kristin Cosgrove      Photos: Monica Tindall
Arriving at the newly revitalized The Row on Jalan Tun Razak, I feel like I've stepped out of KL and onto a European city sidewalk, where hip patrons might sit al fresco enjoying a Sunday morning glass of bubbly or café latte.  We are headed to brunch at 2OX, KL's newest bistro offering affordable French cuisine in an informal, friendly atmosphere.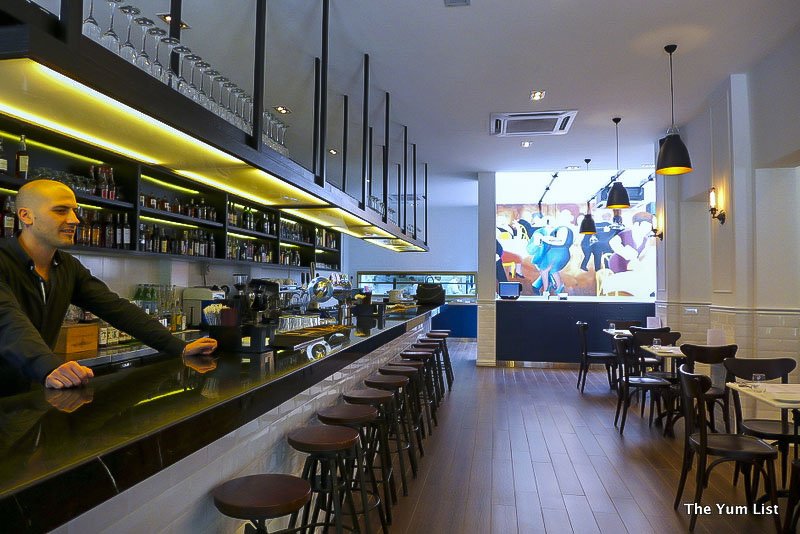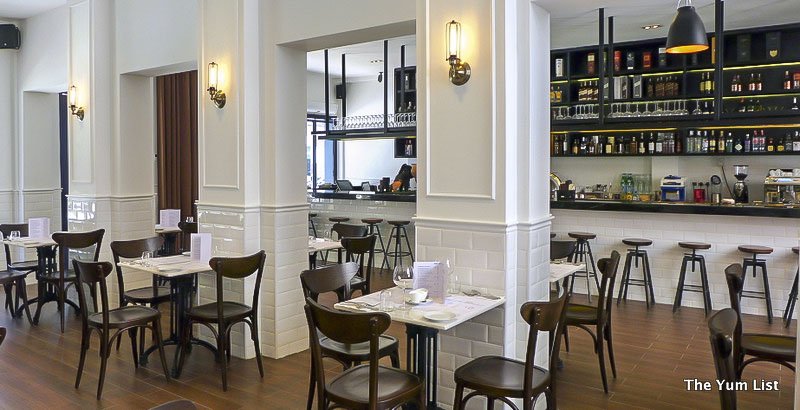 Having had a terrific dinner experience at 2OX recently, Monica and Caning are excited about the bistro's new brunch concept, featuring a different region of France each week. It being my first opportunity to visit, I am impressed at the bistro's stylish façade and sleek interior. Feeling transported to a Parisian bistro, I love the ambiance created by the shiny white of the subway tiles along the wall, the giant colorful mural behind the counter and the floor to ceiling velvet curtains. A transparent ceiling in the back allows lots of natural light to flood the dining room.
Sunday brunch at 2OX has to be one of the best value in the city at only RM108 with soft beverage and RM158 with free flow red or white house wine. At this price, Chef Thierry Le Baut (also of Maison Francaise) presents a simple but elegant three-course meal based on quality ingredients. We are delighted to discover that brunch this week features food from Burgundy, the famed wine and cheese region of France.
After being seated we are treated to a glass of Noche Y Dia Cava – a clean and refreshing way to relax and begin our meal. Though not included in the price of brunch, at RM23 glass, this cava is excellent value. I am also impressed with the wine list, which features good wine from a variety of regions at very accessible prices.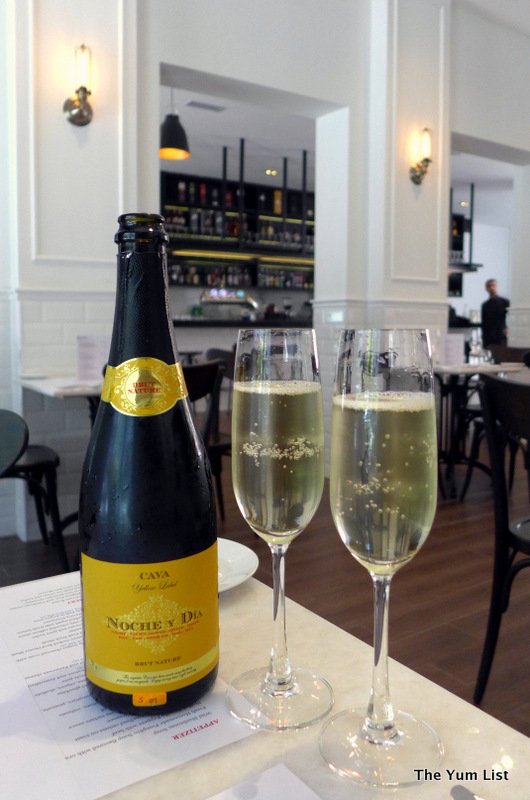 The wine included in the brunch is free-flow and thankfully, the wait staff is extremely attentive, ready to top up a glass before it's empty. We are pleased with both house wines; the Torre Abalde Vino Tinto is a medium-bodied Spanish wine with fruity notes. I especially love the Angosto Blanco, which is wonderfully aromatic and fruity with hints of the tropics, this is a wine I'd definitely order again.  On the regular menu at only RM20/glass, it's wallet friendly too.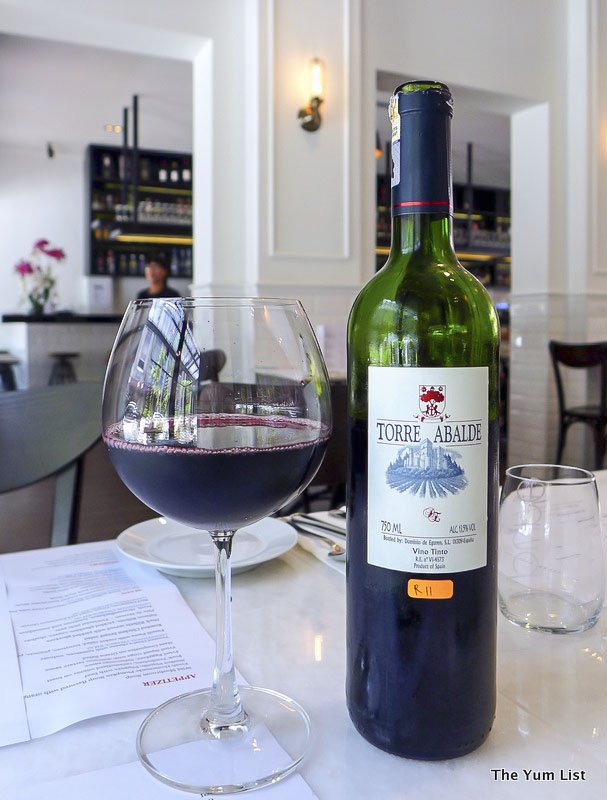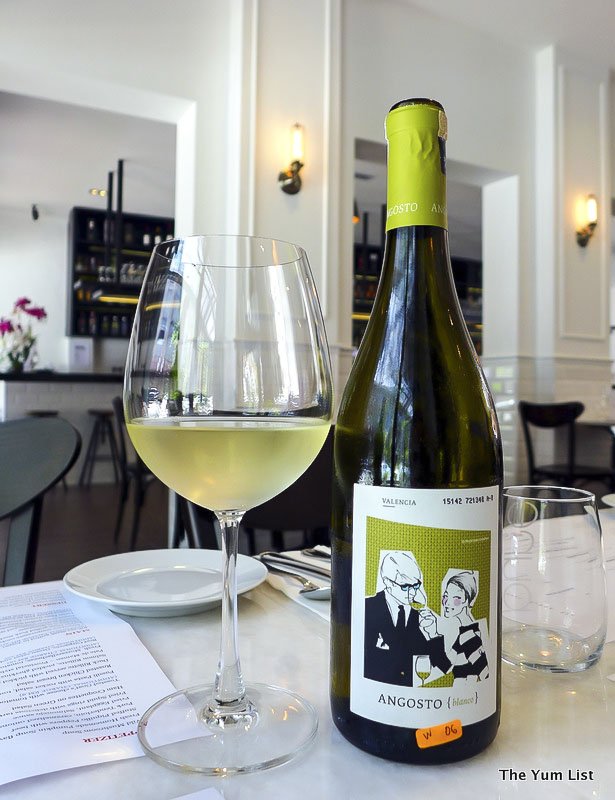 The starter plate features three appetizers and a small green salad. The Gougere is a delightful morsel of choux pastry and cheese while the "Oeuf Meurette", or poached egg, is topped with a wine-based red sauce of bacon and mushroom. The sauce lends a tangy flavor to the egg, and the creaminess blends nicely with the soft cheeses.  Finally, the Tarte A L'Epoisse Cheese has me swooning. This soft, thick cheese is renowned as one of Burgundy's best and though it is considered a "stinky" cheese, the taste is aromatic but not too pungent. It is flavorful but mild enough to tempt me to ask for more, an urge I try to resist for fear of ruining my appetite for the main course.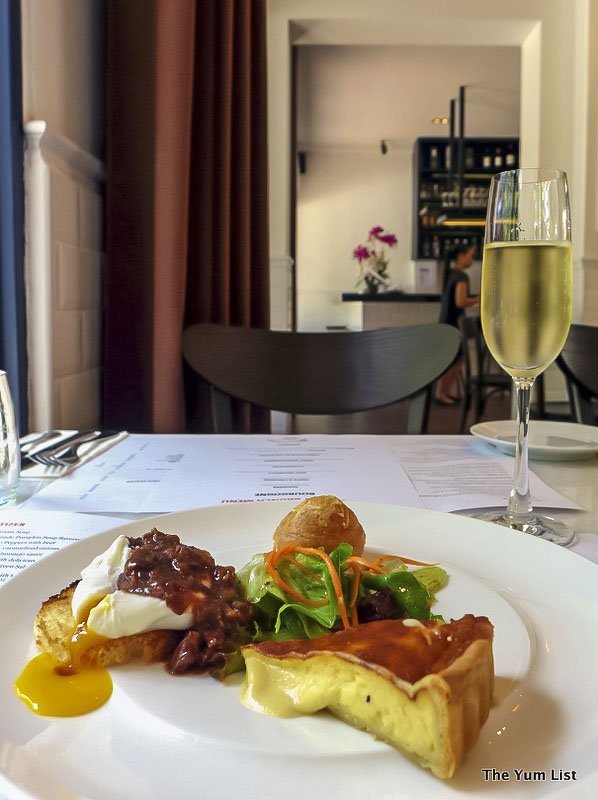 For those who want to give in to the temptation of more, seconds are easy to come by at the 2OX brunch. Though each course is plated and served individually, one only needs to ask and another serving will be granted.
The main course at the Burgundy brunch is a duo of surf and turf sharing an elegant rectangular plate. La Pochouse, pan seared sea bass with a tarragon sauce, is flaky and pleasing, the creamy, garlic sauce complementing the flavor well.
Unsurprisingly, the quintessential Burgundy dish, Boeuf Bourguignon is the highlight of the meal. The beef, slow cooked in red wine sauce, is so tender we easily cut it with the side of our forks. It is moist but not at all fatty and we marvel at the flavor. Too good to leave behind, the remaining red wine sauce is rescued by sopping it up with the beautiful house bread, which has a crusty outside and soft, chewy center.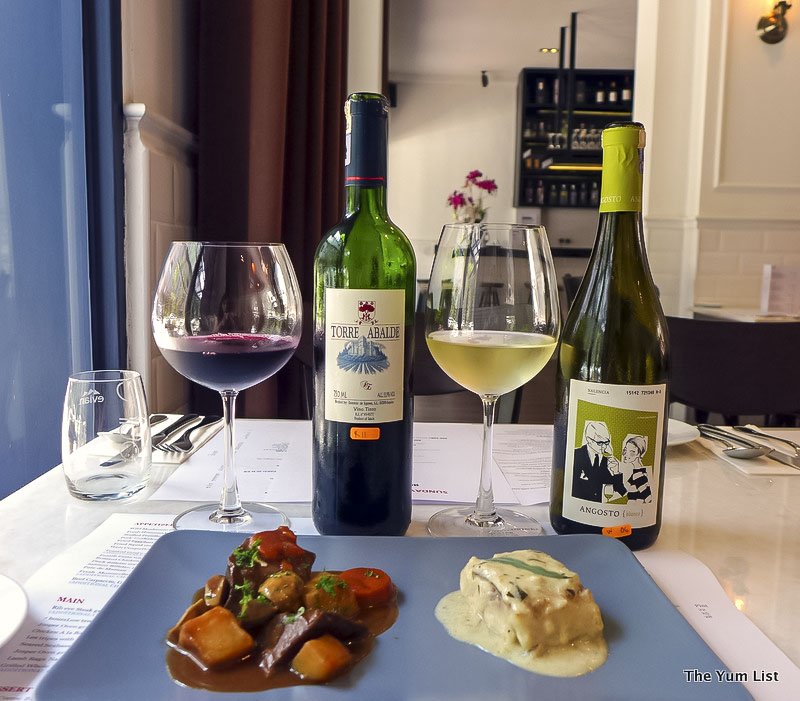 Though the dishes have been modest in size and we have not indulged in seconds, we are feeling plenty satiated while not overly stuffed – a nice change from the usual post-brunch malaise. Indeed quality trumps quantity at 2OX.
Dessert is delectable as a poached pear in red wine is paired with a scoop of vanilla ice cream is drizzled with almond sauce. We "ooh" and "ahh" over dessert while our coffee (from Illy) helps cut through the haze of the free-flow wine.
Our experience leaves us musing about next week's selection. Will the 2OX brunch take diners to Bordeaux, Brittany or perhaps Provence? With Chef Le Baut at the helm, you can bet it will be "destination delicious".
Reasons to visit: Excellent value brunch, authentic French fare in elegant bistro atmosphere, good for groups or romantic meals.
2OX
French Bistro Bar @ The Row
56G, Jalan Doraisamy
50300 Kuala Lumpur
www.two-ox.com
www.facebook.com/2OX
+6 03 2692 2233
(Visited 716 times, 1 visits today)