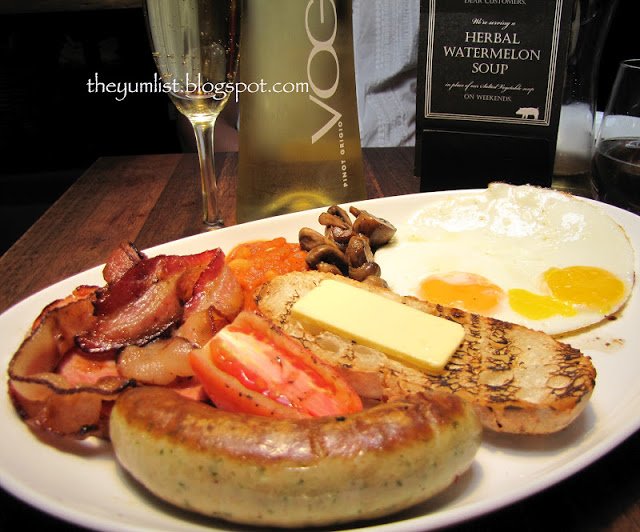 The English Fry Up RM39++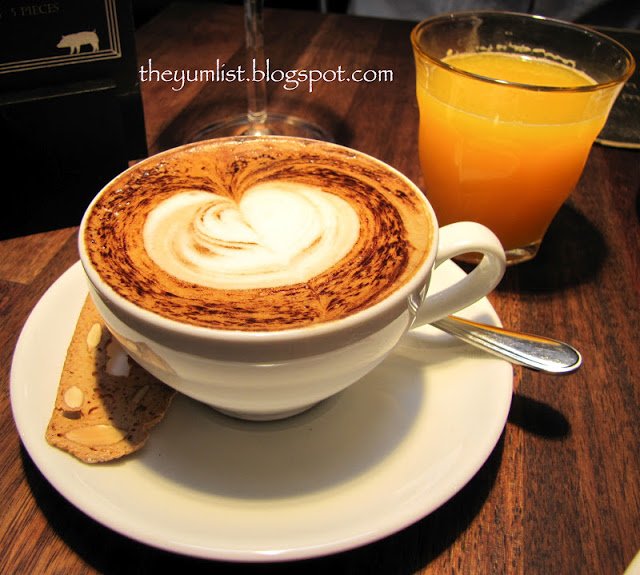 Cappuccino and Freshly Squeezed Orange Juice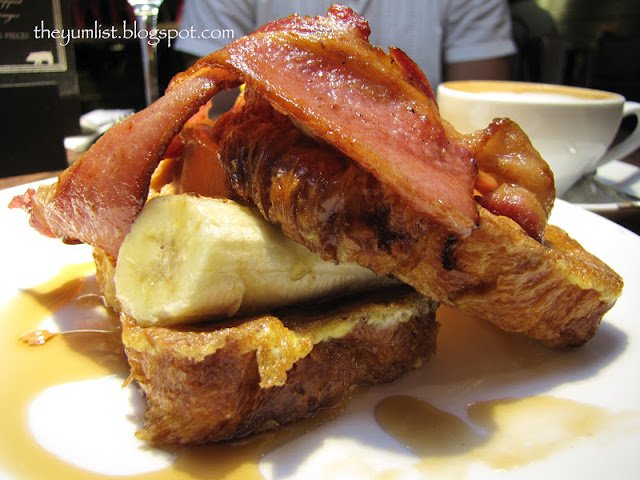 French Toast with Grilled Bananas RM19++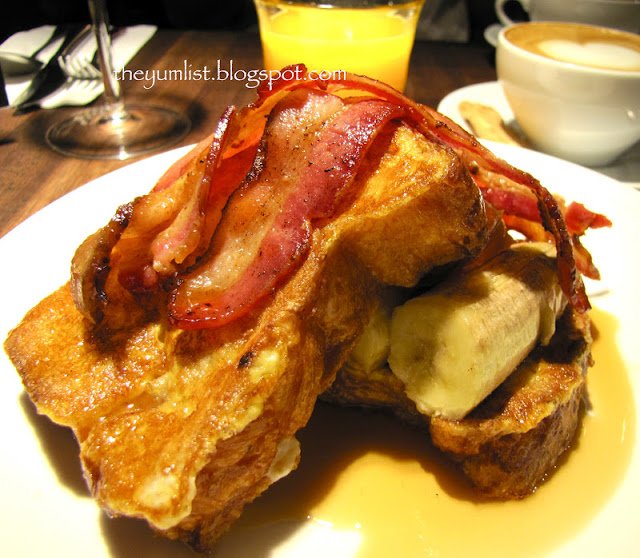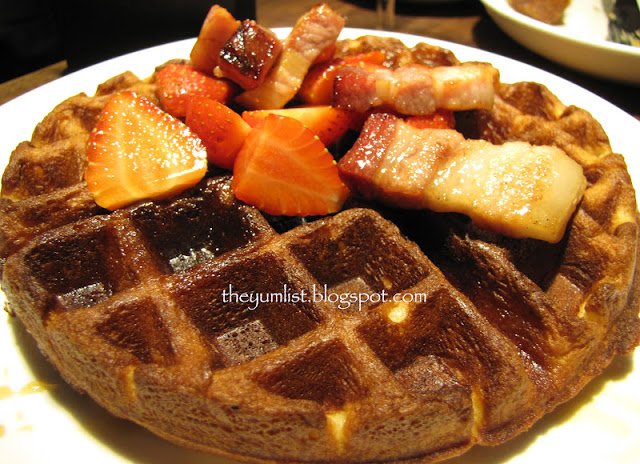 American Waffle with Strawberries RM36++
Bubbly Brunch at S.Wine, B.I.G., Publika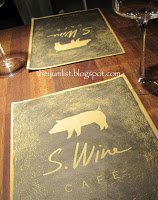 S.Wine Menu
Packed
with customers on the weekend, we congratulated ourselves for making a
reservation ahead of time at S.Wine in Ben's Independent Grocers. Decked with a
polished cement floor, metallic seating and a sign mapped out in mustard Broadway
light bulbs, you could easily be led to believe that you were in a buzzing café
in a trendy side alley of Melbourne or Sydney. Squeezing into a small wooden table,
dressed with nothing but wine glasses and the menu, we studied the breakfast
offerings under warm fulvous light radiating from the low hanging overhead
lamp. Much like the space, the menu was bulging at the seams with porcine inspirations.
Breakfast
is available from 9am until 6pm on the weekends. This, coupled with the fact
that they serve real bacon, has to make S.Wine one of the best 'day after the
night before' recovery places in the city. While bubbly brunches are not a
promotion here, you can easily create your own by purchasing a bottle/s next
door at B.I.G. Wine bought at their liquor shop, Booze It, is free of a
corkage fee. If you're a fan of Do-It-Yourself, S.Wine will have you smiling with the options at one's disposal.
We
thought the idea a grand one and ordered an Italian Sparkling Pinot Grigio by
Voga. Selling at RM123++ for the bottle or RM20++ per glass you can customize
your boozing experience. On the drinks side, we also quaffed orange juice
(freshly squeezed), a flat white, cappuccino and, latte. Satisfied that our thirst would soon be well quenched we made the difficult decision of choosing just a couple of dishes from the menu.
The
English Fry Up was the first order that my bacon deprived hubby shouted out before I'd even gotten through reading the next item on the list. Applewood smoked bacon, arugula pork
sausage, sautéed button mushrooms, house made baked beans, grilled Roma tomato
and two fried eggs served with coffee or tea and freshly squeezed orange juice is S.Wine's version of a Big Breakfast. It came out hot, greasy and smokily sweet. Hubby's initial offers to share with me were soon forgotten the moment he bit into the arugula sausage. Seeing the look on his face I quickly sliced off an end to sample before he began moaning with delight over the smoked bacon, which apparently reminded him of his mum's weekend sizzles. I was lucky to get a spoon of the house made baked beans (excellent by the way) and a couple of mushrooms before he had the plate licked clean.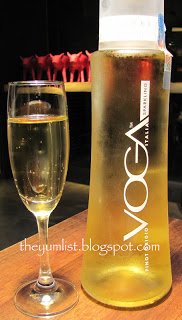 Voga Sparkling Pinot Grigio
S.Wine's take on my personal weakness, French
Toast, has to be one of the most decadent that I've tried in years. Fat spongey slices of egg dipped toast are lightly grilled and adorned with caramelized bananas, a whopping dollop of velvety smooth and creamy peanut butter, drizzled with maple flavoured
syrup and, crowned with two slices of crispy applewood smoked bacon. I wipe a trickle of saliva from the corner of my mouth every time I think of this chef-d'œuvre.
Our final order, the American
Waffle with Strawberries, came out an enormous thick round of slightly over toasted batter. Despite being a tad browned on top, the airy fluffy inside was sweetly appealing and only made better with the maple-glazed
pancetta and fresh strawberry topping. It warrants a reorder, but perhaps with a note to the chef that we like ours not quite as toasted as most might.
We
only just dipped into S.Wine's porkylicious menu with breakfast. Studying
tables around us we spied a whole host of bacon scented eye-catching lunches.
Salads, pastas, mains, sides and snacks featuring an uncensored array of pig
bits appear as good a reason as any for a repeat reservation.
Reason to visit: French Toast with Grilled Bananas, The
English Fry Up, chance to make your own bubbly brunch with the drop of your
choice corkage free if purchased next door at B.I.G's Booze It.
S.
Wine
Big
Independent Grocers
Lot 1A 83 – 95 Level UG 1
Publika Solaris Dutamas
Jalan Dutamas 1
50480 Kuala Lumpur
Malaysia
+6 03 6209 1700
(Visited 254 times, 1 visits today)