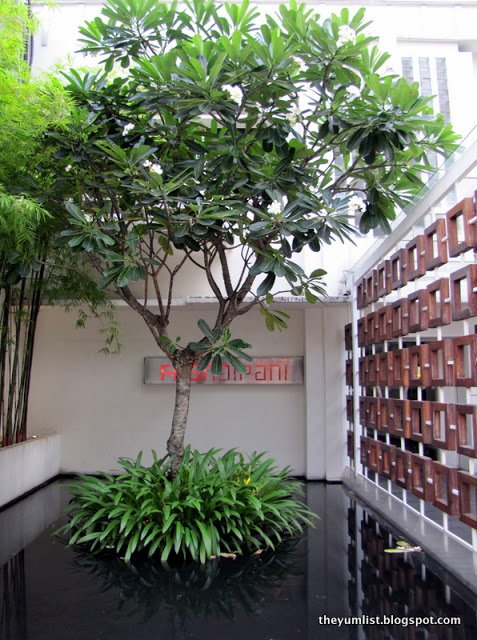 Frangipani Entrance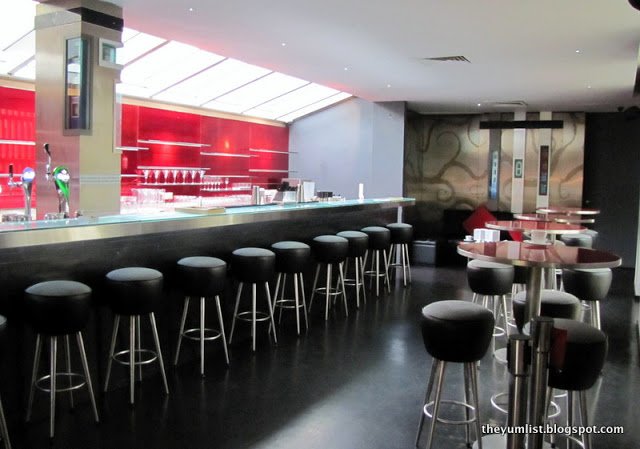 Upstairs Bar, Frangipani
Frangipani, Cocktails and Pica Pica, Changkat Bukit Bintang
Words by Kirsten Durward
Photos by The Yum List
The outside lounge at Frangipani is funkier and more casually upbeat than the original elegant indoor restaurant concept. The space is inviting, restful and uplifting. I feel Moorish influences in the playful squares and big circles that separate us from the street, while still letting atmosphere flood in. Cheery music plays in the background, and we are really ready to taste the new Spanish influence Pica Pica menu, together with some starter dishes from the main menu.
It's Thursday, so at Frangipani, that means oysters! Fresh oysters arrive every Thursday and are offered with Cava or Champagne. Ours arrive in a cloud of 'lemon air' and a selection of colourful cocktails. The oysters, with their tingles of ginger and lemongrass, slip down quickly and we turn our attention to the smorgasbord of drinks. We've asked to try the house specialty cocktail and apparently there are many. Ah well, nothing to complain about there!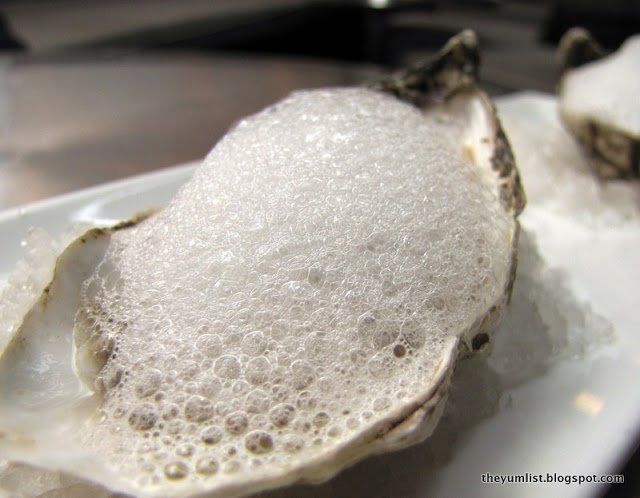 Fresh Oysters in Lemon Foam
A Bad Idea seems like quite a good idea at the moment. It looks and tastes, fresh and fruity, with zingy lime and juicy blueberries coating the kick of Tequila, that yes we may live to regret later. It's a delightful combination and I could see how a few might slip down. RM 45 ++ for a jug! (bargain)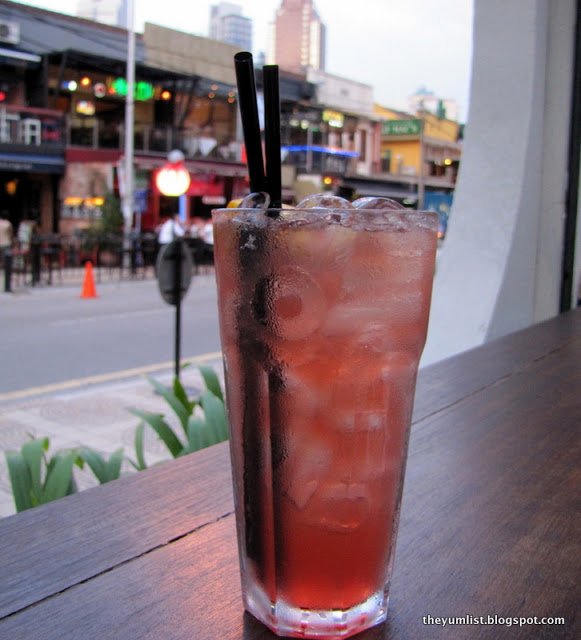 A Bad Idea
Citruschka is simpler. I've never had gin with fresh orange, but this seems like a good idea too. Bombay Sapphire is my favourite, a good clear gin, nothing but the best here! It's refreshing drink, great for an afternoon session with a few good friends. RM33.00++
Thankfully some food dishes start to appear or I would worry for the state of our heads. The Pica Pica are all presented like delicate works of art, colour combinations and designs on the plate provoking many admiring comments. What the eye sees, the taste buds want to try and none of these dishes disappoint on tasting.
Quick sautéed baby squid, bursts with herby flavours and succulent texture – totally mouth watering. The tiny baby squids pop a crunch, and the smooth garlicky aioli ensures a melt in the mouth experiencing.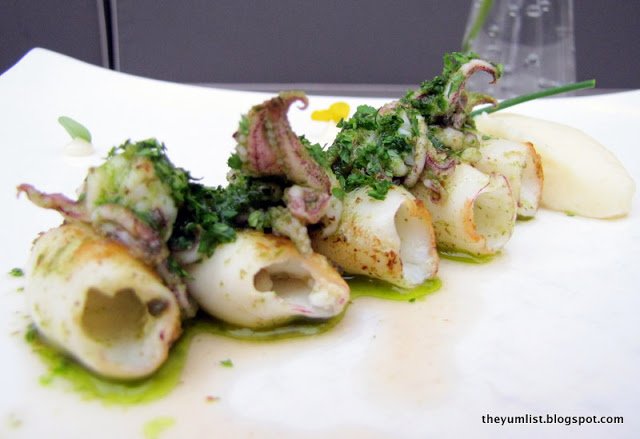 Quick Sautéed Baby Squid
A new and delightful experience is 'Boquerónes'. Spanish White Anchovies served with garlic and extra virgin olive oil. If like me, you're not a total anchovy fan, do give these ones a try, they are not the typical searingly salty type but incredibly light and fresh and a juiciness of flavour. Honestly, I had two, served with a hint of lime, a great new yum for me.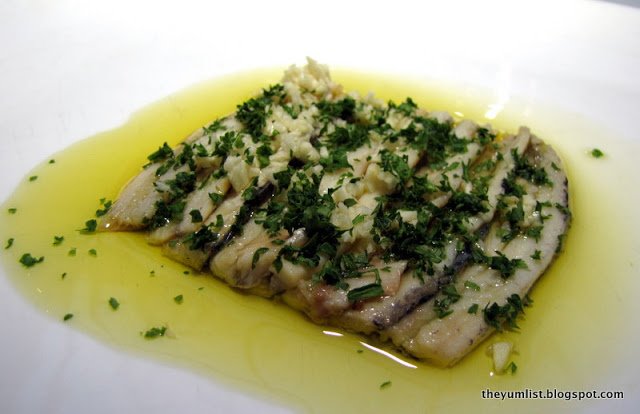 Boquerónes
A darker anchovy cousin arrives on a cracker, the salty flavour nicely balanced by some roasted sweet pepper. Anchovies from the Cant Abrico Sea are a savoury treat.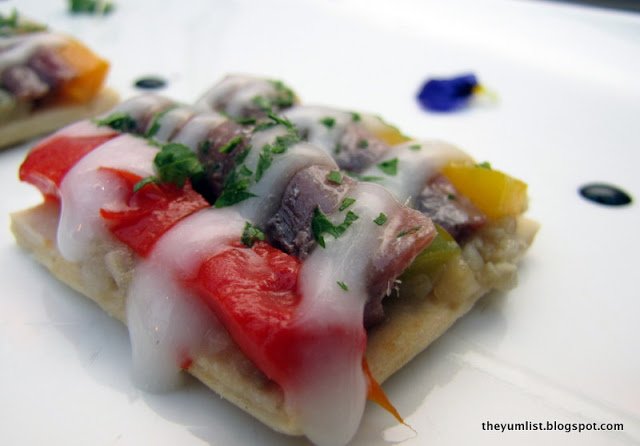 Anchovies from the Cant Abrico Sea
Mediterranean Grilled Octopus in Spanish paprika oil is a splurge of purplish tentacles, juicy and fat Deliciously textured, with still a hint of sea freshness.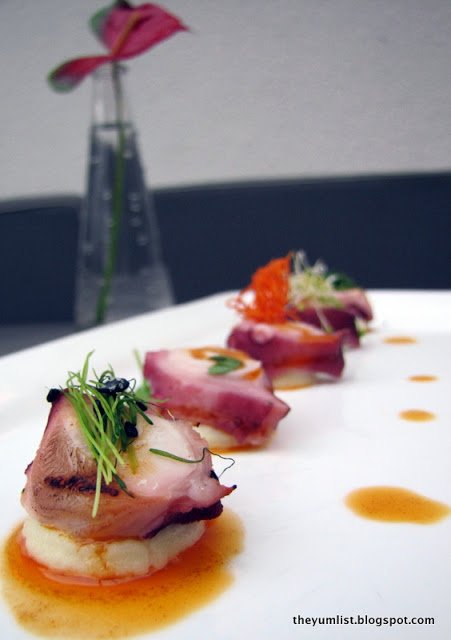 Mediterranean Grilled Octopus
The seafood tingling our taste buds means it's time for more drinks. And drinks there are a-plenty! Monica and I both adore passion fruit, so A Russian On Ipanema was bound to get the thumbs up. Mm it is a nicely balanced drink with plenty of fresh lime and a good hit of Skyy Vodka. A communal favourite. RM28.00++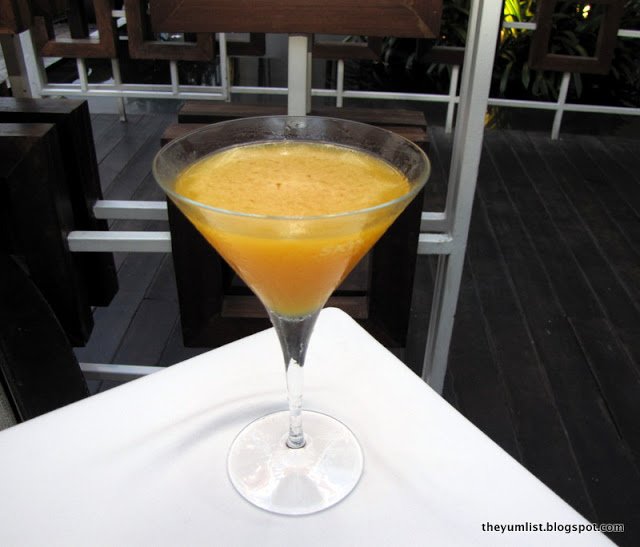 A Russian On Ipanema
I've been waiting for the tomato salad with tuna belly. It was worth the wait. Really moist tuna, with a fresh just grilled cube of tuna very pink in the middle. A true fresh taste of the sea in the city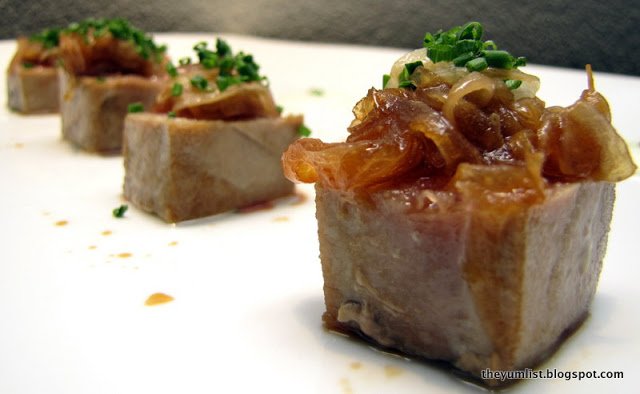 Ahi Tuna Belly
Pan Seared Hokkaido scallop is simply amazing. Its perfectly cooked, juicy and firm, and the mango salsa is a great complement, with a slight Asian twist in a hidden chili bite. Chef Manuel has created a salty, sweet, spicy, sticky, slippery mouthful that is ours to enjoy.
With thee little Asian twists in the food, we enjoy some Asian influenced drinks too. Muay Thai Boxer is the most original drink of the night. Bacardi and Ginger Beer are taken into another dimension by adding savoury Asian flavours of coriander, lime, coconut milk, and fresh basil. It's surprisingly moreish, and accompanies the seafood dishes very well indeed. RM35.00++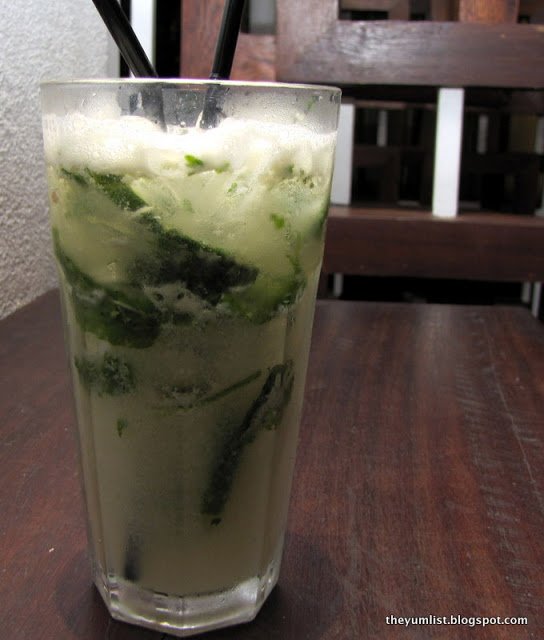 Muay Thai Boxer
I always found a regular Cosmopolitan to be on the slightly sweet side but this inspired Ginger version with Skyy Vodka and fresh lime, is very much my speed. The sharpness of lime and subtle heat of ginger combine surprisingly well with the cranberry Cointreau concoction. I could sip on this on very regular occasions. Zing! RM28.00++ Caning has asked to try the Mojito, one of his personal favourites. It proves a very classic interpretation with a ton of mint leaves and nice and sparkly. Caning is happy as his grin declares widely. RM28.00++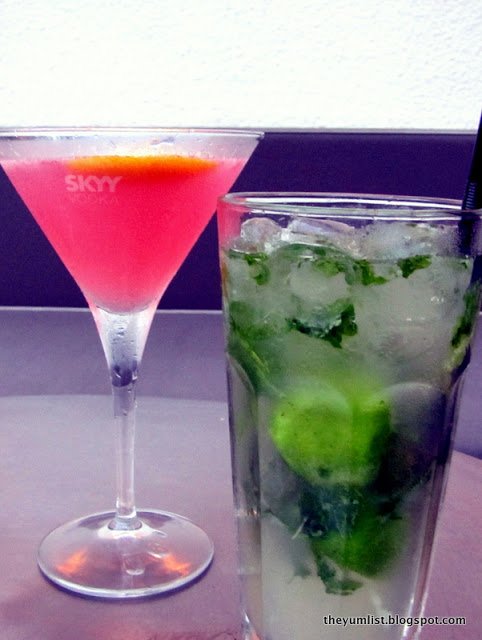 Ginger Cosmopolitan and Mojito
Slices of Pata Negra beef glisten in purple glory on a white platter. Basted in olive oil this dried beef delight is smoky to taste, and offers just the right amount of chewy texture before melting away. A wonderful Halal option to Parma ham.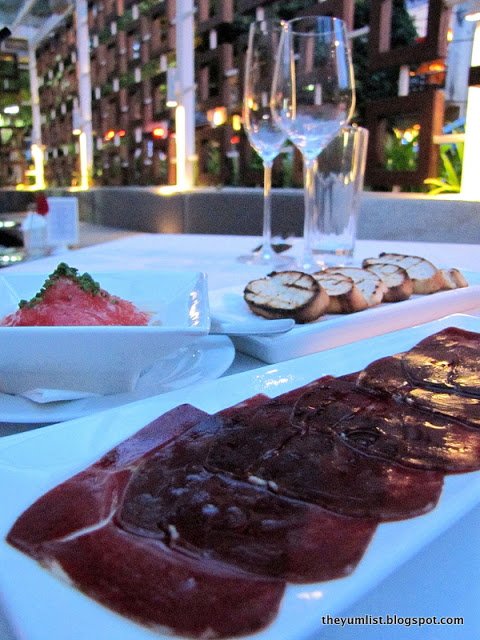 Pata Negra
Chef is anxious we taste the foie grass while it is warm. It's ever so slightly seared and glistens darkly on the plate gracias to a little caramelized sugar, Mmmmm… Spread a dreamy creamy slice on a cracker, delectable, buttery, smooth, gets the accolade of 'creamiest foie gras ever' from Monica.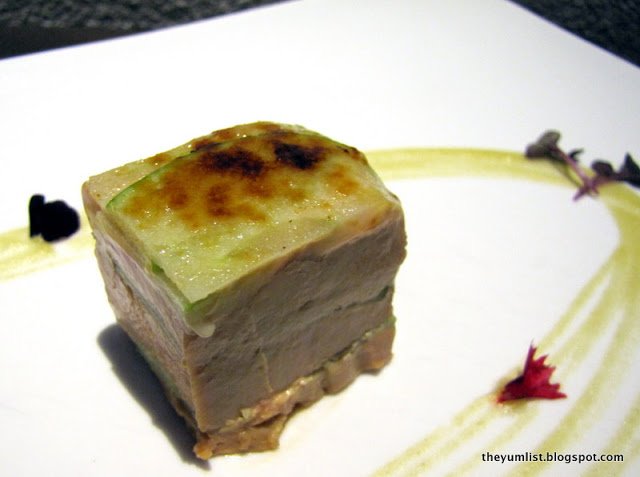 Foie Gras
I've heard it said that it's hard to find a good Martini in KL. Well look no further. Here is a very dry version with Belvedere and lemon zest. It's a true classic for serious cocktail drinkers. Its beautiful clean dry taste refreshes the mouth with the deliciously juicy fatty textures of some of the food. RM28.00++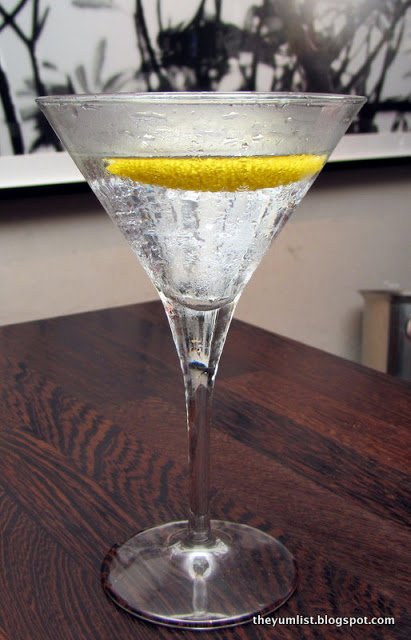 Martini
Our final cocktail Satu Lagi is a light and fresh fruity punch. Aperol combines with white wine, soda and orange wedges for a long refreshing drink, great on a steamy afternoon. RM35.00++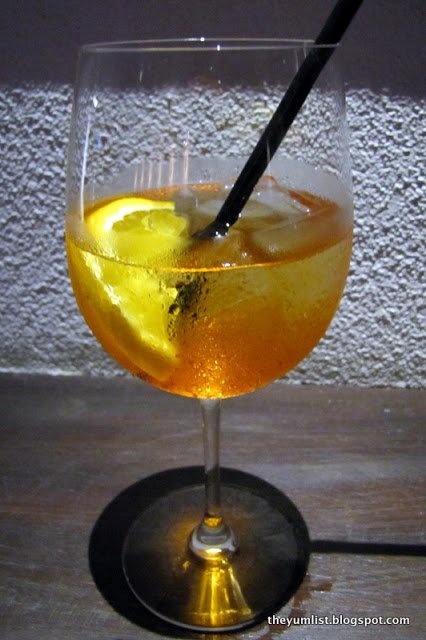 Satu Lagi
This fresh outdoors section of Frangipani has achieved the aim of giving the customer choice. No doubt these cocktails will be on the next list of best cocktails in KL. The Sunday – Wednesday happy hour is a wonderful deal with two for one on jugs and glasses of selected cocktails. Grab a good friend and head over for some midweek spoiling.
Reasons to visit: delightful upbeat ambience, delicious fresh and original food, creative cocktail combinations.
Frangipani
29 Jalan Changkat Bukit Bintang
50200 Kuala Lumpur
Malaysia
+6 03 2144 3001