Words: Ashling Cullen    Photos: Monica Tindall
My weekends are spent looking for places to go for brunch.  I've found a few good places, but great places are few and far between. Sitka in Damansara Heights easily makes it onto the list of 'great places to go' for me.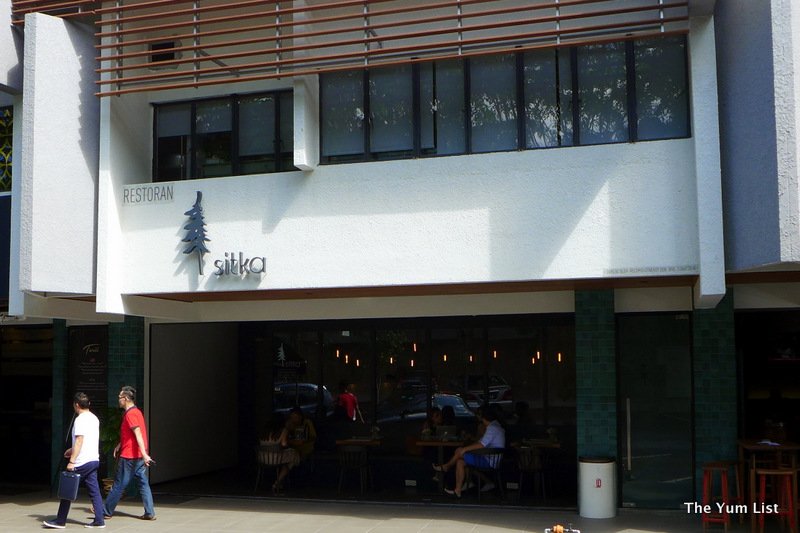 Entering the dining room, there is a decidedly cool and hip vibe, very much a grown up experience. The music is ambient and relaxing, and the stylish yet comfortable décor gets our nod of approval.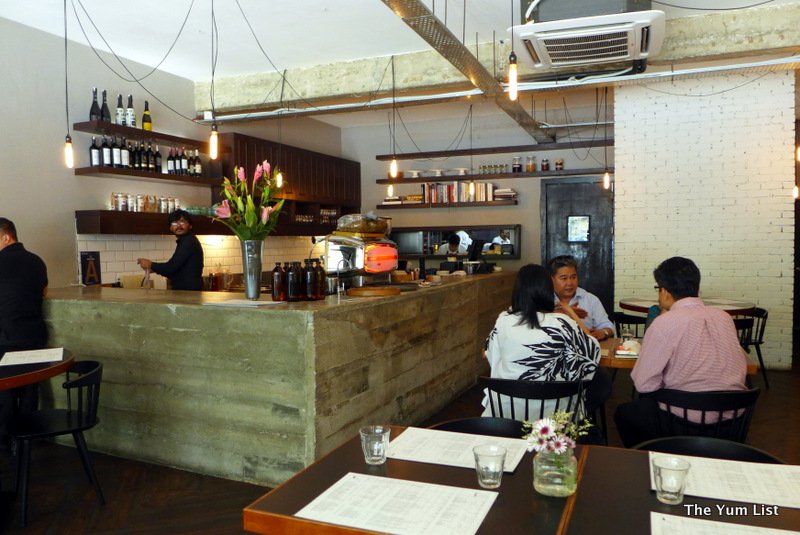 Christian Recomio, the head chef and co-owner of Sitka, explains to us that everything is made from scratch and locally sourced. Everything down to the small items like the butter, the hot sauce, the soy sauce… all made in house which is very impressive.  We can't wait to see what they have in store for us on their breakfast menu.
Firstly we start with a sparkling Mango (RM12) drink with kaffir lime and star anise. What a wonderful combination! This was so refreshing and I loved the liquorice flavour of the star anise that came through. We also tried the sparkling Lime drink with vanilla (RM12). Monica loved the smooth taste of vanilla against the sourness of the lime.
The coffee was of a very high standard. Smooth and aromatic, just how we like it.  We had a Latte (RM11) and also tried the Valrhona Hot Chocolate (RM12), which won't disappoint chocolate lovers.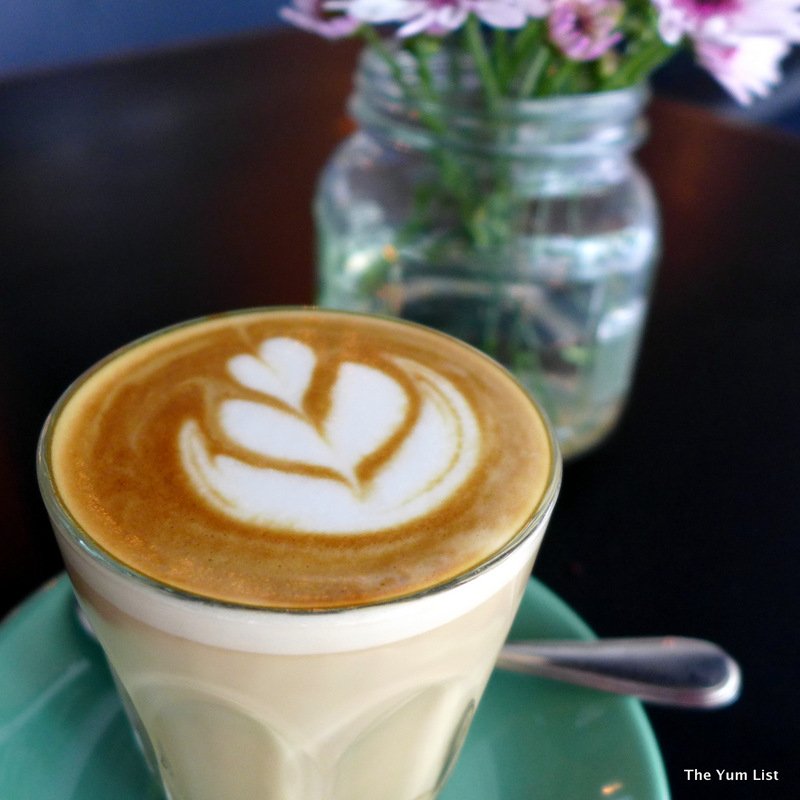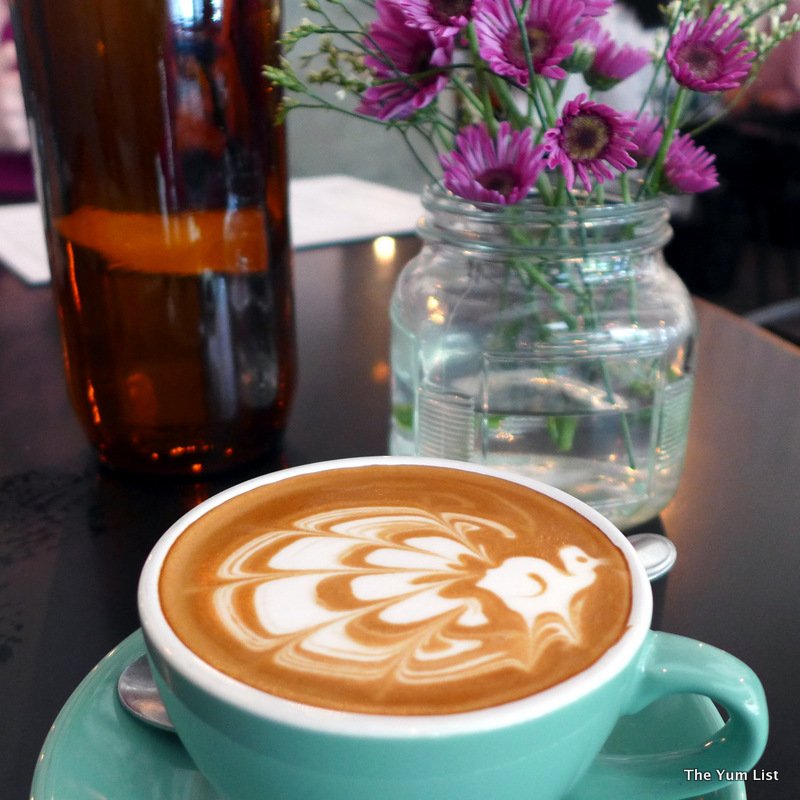 Lucky for us, breakfast dishes are served on a daily basis, Monday – Sunday from 9am – 3pm, so we can get our eggy fix any day of the week.
We started out with a Lobster Benny (RM28), which is so rich and creamy.  I would highly recommend pairing this dish with a glass of Prosecco for the perfect start to any weekend. The eggs are perfectly poached using a 64-degree 'sous-vide' slow cooking technique. The chewy sourdough complimented the herby and creamy béarnaise sauce, and there were generous pieces of slipper lobster throughout.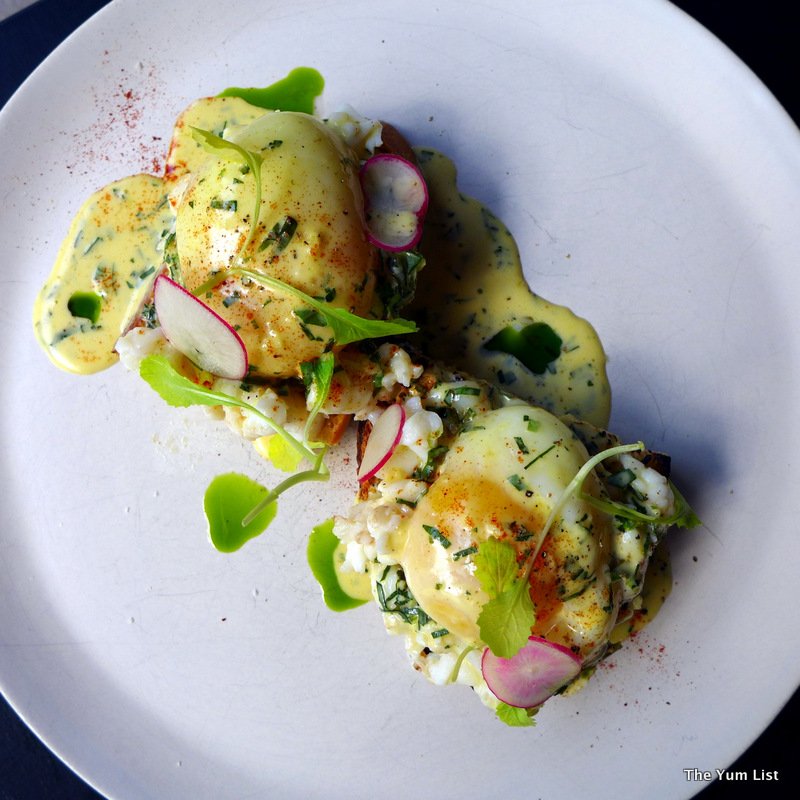 Next up, the Breakfast Brioche (RM23).  Again, this dish has rich flavours with a runny egg oozing into a lamb patty and topped with melted cheese. The most interesting part of this dish is the duck jam which consists of duck jerky mixed with Asian spices, onion, chilli, ginger, coffee and more.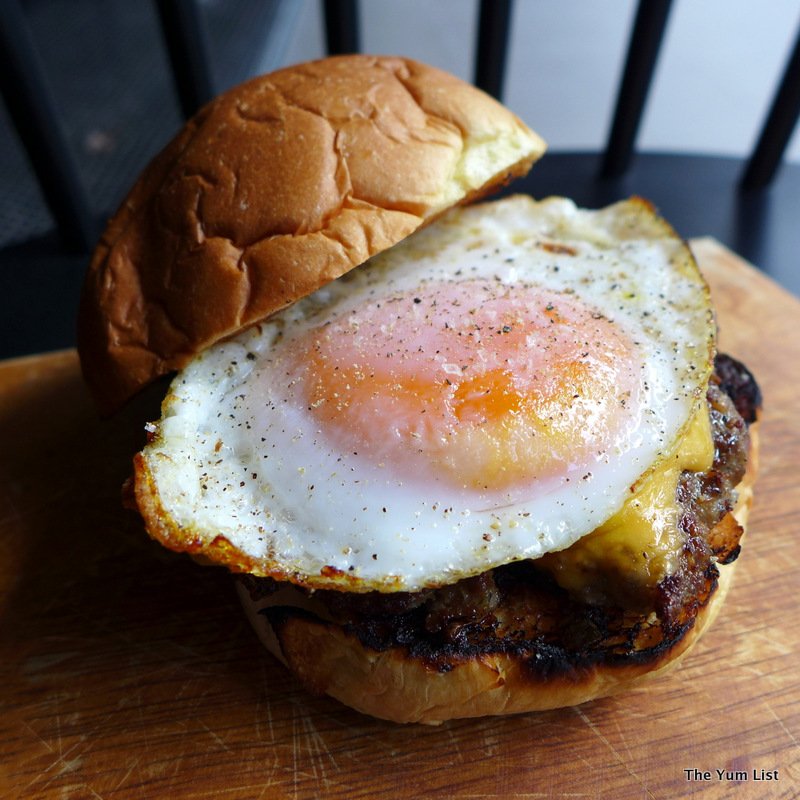 The Brisket Benny (RM25) has a lovely presentation and a distinct variety of tastes to match. The Korean brisket itself is soft and flavourful and is decorated with pickled mustard seeds, herb oil, a béarnaise sauce and tarragon.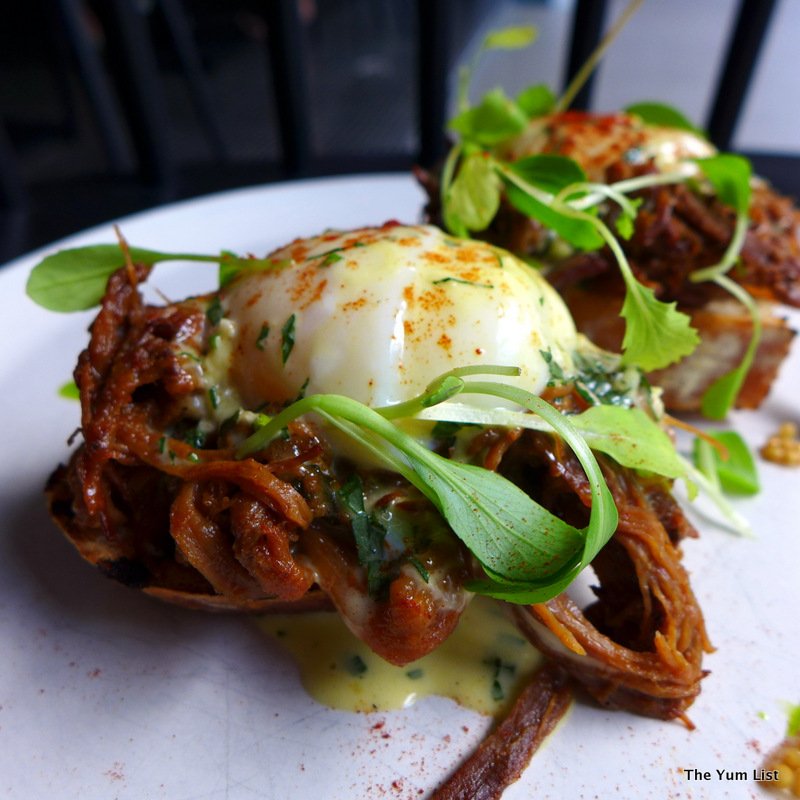 Another beautifully presented dish arrives, the Brisket Hash (RM25), which has tender sweet potatoes and onion chunks placed around a mix of pinto beans, black beans, and kidney beans. The homemade hot sauce gives the right amount of kick to this dish and the oozy egg is cooked perfectly.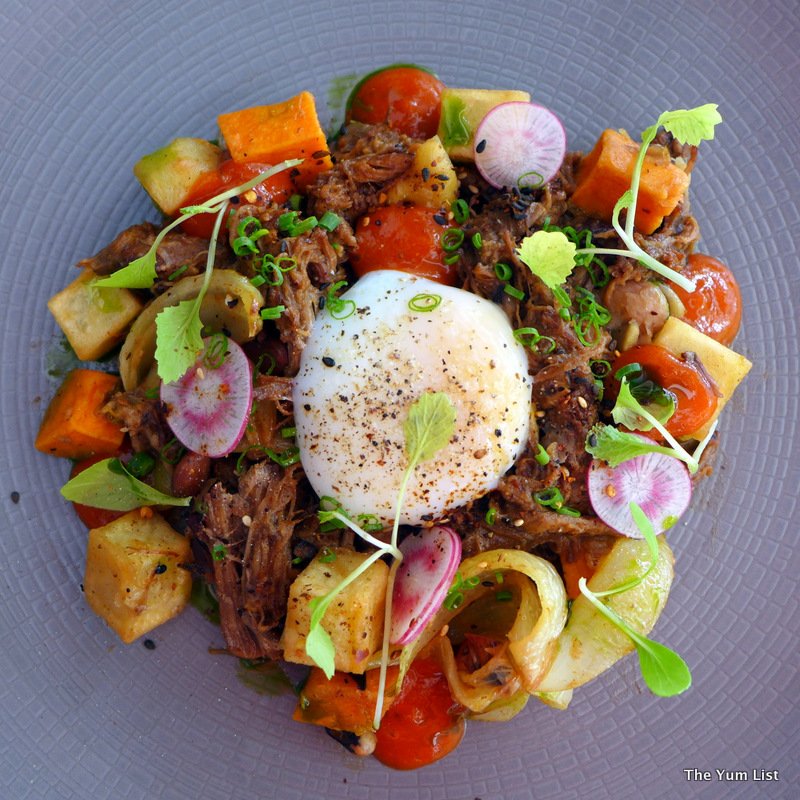 The Chilli Beef Porridge (RM25) piqued our interest as it's made with Scottish oats mixed with rice and chicken stock. I'm not a fan of local congee but this was delicious, with the Scottish oats giving another dimension of flavour and the use of rice giving a risotto or rice pudding like texture. The delicate flavour of the oats matched well with the full flavours and spiciness of the beef.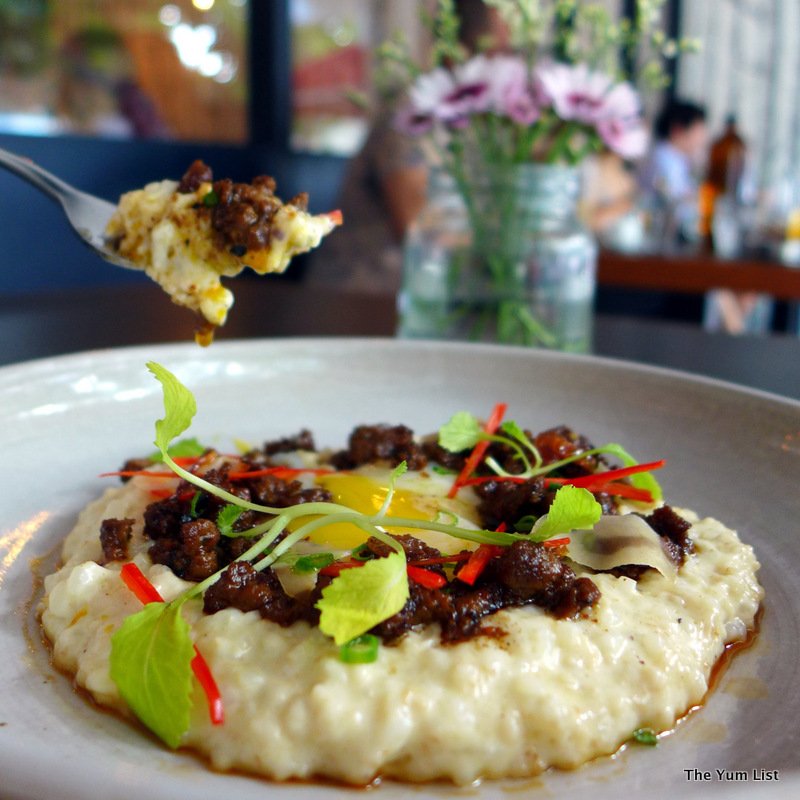 The Mushroom Miso Waffle (RM23) is made with a buttermilk waffle and topped with a fried duck egg, aubergine, mixed beans and a variety of mushrooms.  We loved the sweet miso flavours and mushroom ketchup, which elevated this bistro dish beyond the influx of others currently flooding the KL brunch scene.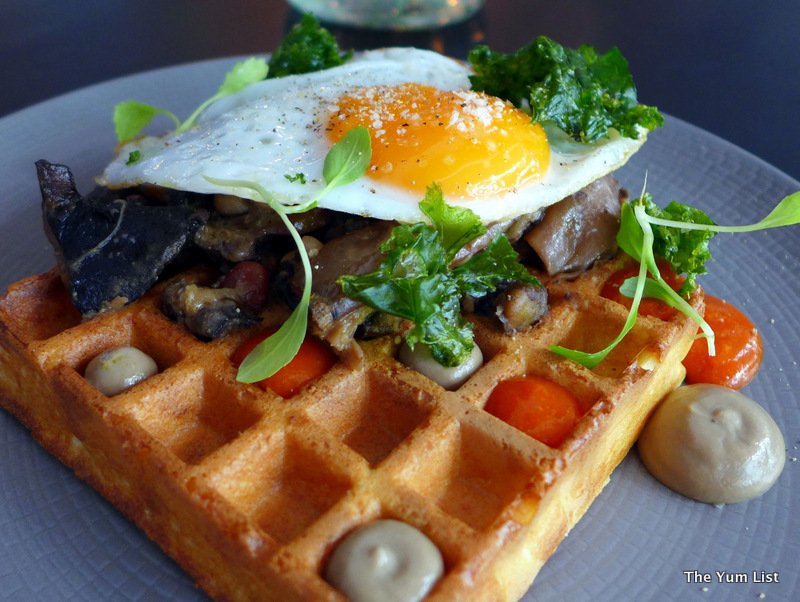 Full to the brim from enjoying the six delicious breakfast dishes, three desserts are bestowed upon us and we can't resist.  There is always room for dessert! All dishes are made with great thought behind them and the desserts are no exception.
The Brownie Ice Cream Sandwich (RM24) is served with raspberry ripple ice cream and walnut brownies.  The brownies are the fudgiest and tastiest that I have ever eaten.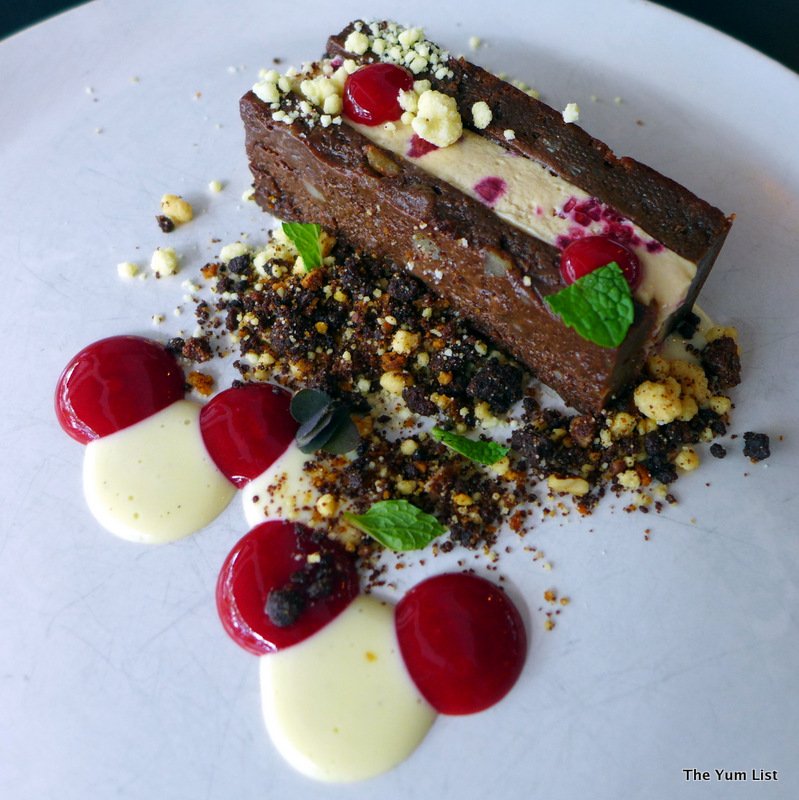 The Banana Treacle Cake (RM24) is a homely dish that is crumbly and not too sweet. The caramel dipped banana pieces and vanilla ice cream add the right amount of balance to this dish.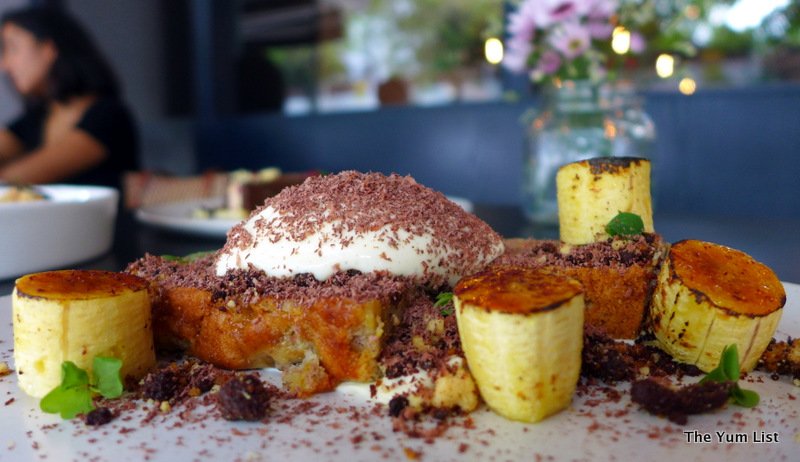 And finally my favourite – the Dark Chocolate Cremeux Peanut. Salted honey roasted peanuts are served with a peanut mousse and grape gel.  This dish melts in the mouth with sweet and salty flavours. Stunningly good.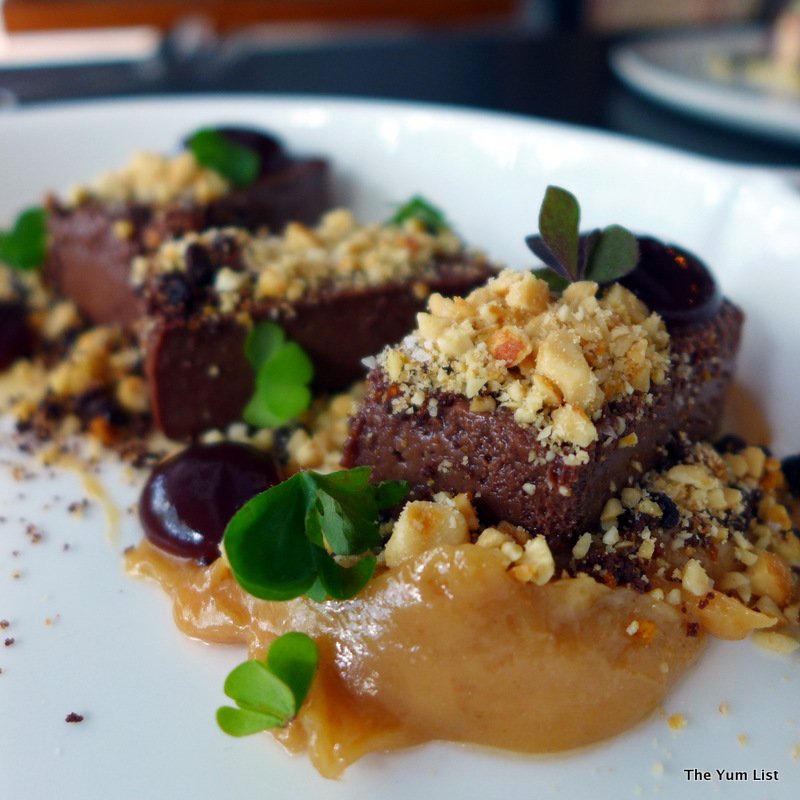 Sitka is unlike any other restaurant you will experience in KL. The farm-to-table approach along with a great consideration for each and every ingredient has elevated this dining experience to something very special. The prices are very reasonable considering the quality of the food available.
Reasons to visit: the decadent desserts but especially don't miss the Dark Chocolate Cremeux Peanut; each dish is a visual feast for the eyes and well as the stomach with my fav being the Lobster Benny, Caning's the Brisket Hash, and Mon's choice is the Chilli Beef Porridge; easy parking; cool hip vibe.
Sitka Restaurant
8-5, Jalan Batai
Damansara Heights
Kuala Lumpur, Malaysia
+6 03 2011 1117
www.sitkarestaurant.com
www.facebook.com/SitkaRestaurant/
Open Monday – Sunday, 9am – 10pm.  Breakfast served daily until 3pm.
(Visited 1,246 times, 1 visits today)