Words: Monica Larrieu     Photos: Monica Tindall
Nestled atop the Pinchos Tapas Bar in Changkat Bukit Bintang's rowdy main drag, Palillos is a novel fusion of East-meets-West, or more specifically, Spain meets Japan. The name itself, Palillos, literally means 'sticks' in Spanish, and aptly has a double meaning of 'chopsticks,' which is clever and catchy for a Spanish-Japanese fusion theme. This unusual meeting of these two disparate worlds renders an ample array of Iberian and Nipponese flavors, in a surprisingly balanced confluence of tastes, textures, and smells.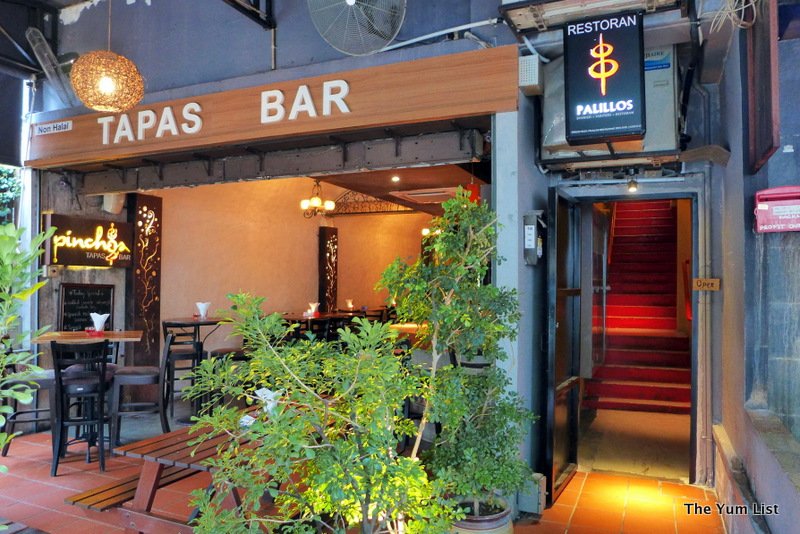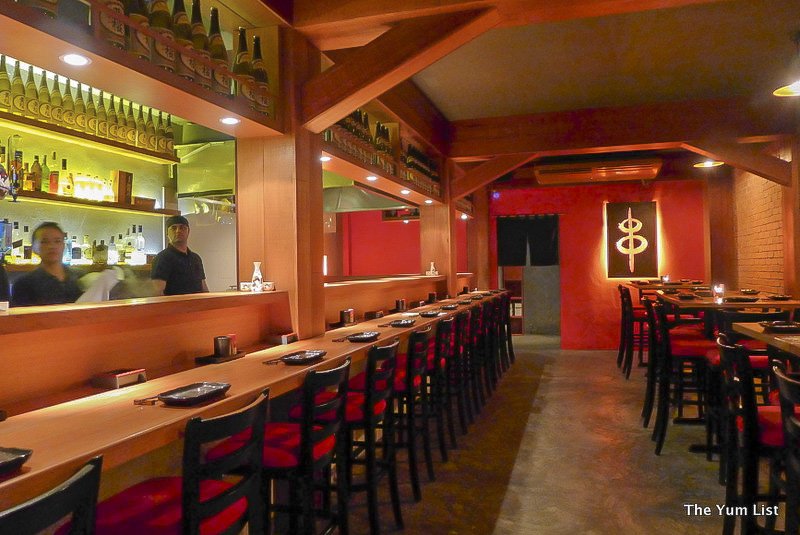 Palillos specializes in Japanese yakitori cuisine, consisting of skewering small pieces of meats and vegetables. These small brochettes fit superbly with the concept of Spanish tapas, which are an assortment of finger-foods and appetizers. The concept of fusing the two was a great leap of faith for Roberto and Shirley, proprietors of both Palillos and Pinchos. Roberto, a native of Barcelona, and his Malaysian wife, Shirley, wanted to fuse their love of Spain and Japan, and set forth on this daunting venture, building on their experience to date with Pinchos. With some tenacity, persistence and creativity, they successfully found a delightful fusion to implement their vision.
The term yakitori, used specifically with chicken meat, is used interchangeably with kushiyaki, whereas kushiyaki encompasses both poultry and non-poultry items that are skewered and grilled. Lucky for us, Palillos serves both, using the traditional Japanese style skewers over binchōtan charcoal – a white charcoal that comes from the Japanese Holm oak trees. Long believed to burn hot at lower temperatures compared to regular charcoal, binchōtan is believed to burn longer and release less smoke and odors.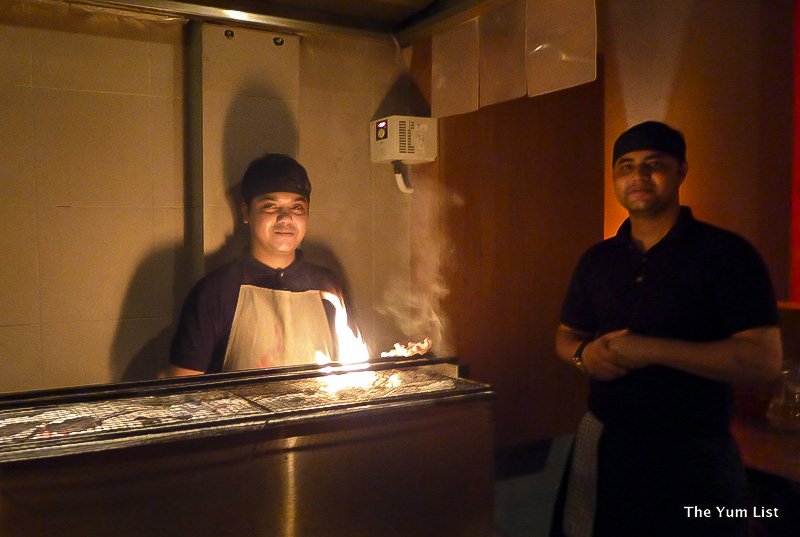 We set forth on our first yakitori experience, sitting across the way from the grill, which was located on the other side of the bar, near enough for us to watch the preparation and process. The delicate smell of the binchōtan wafting through the air piqued our curiosity and enticed us with what was yet to come.
Appetizers
First to arrive at our table, as the binchotan was heating, were the surprisingly tasty Boquerones (RM16), Spanish anchovies marinated in rice vinegar, topped with roasted red peppers and a wasabi vinaigrette. I say 'surprisingly' because for the greater part of my 40+ years, I have not liked nor been able to eat anchovies. I can now, but only if served in this manner. Some Salmon Belly Sashimi (RM 25) followed, which was buttery and delectable, as salmon belly should always be. We also munched on a refreshing Mizuna Salad (RM 23) made with mizuna leaves (Japanese mustard greens), onion, kaiware (sprouted daikon radish seeds), myoga (Japanese ginger), and ponzu dressing. To our delight, a Serrano Ham Manchego Cheese Platter (RM 39) was proudly placed before us. The succulent Serrano ham is always a treat and is usually handled like a rare commodity. The platter was accompanied by anchovy-stuffed and sake-infused green olives and pan tumaca, reminiscent to the Italian broschetta, and topped with an olive oil-based tomato puree. As if this was not enough, juicy Deep-fried Hiroshima Oysters (RM 22) followed, which we luxuriously dipped into a tartar sauce made with capers, onion, lime juice, and vinegar.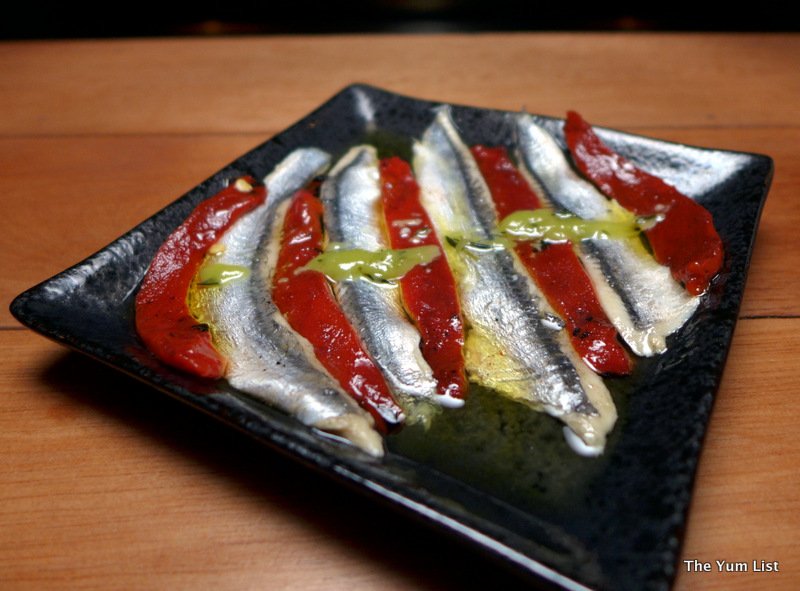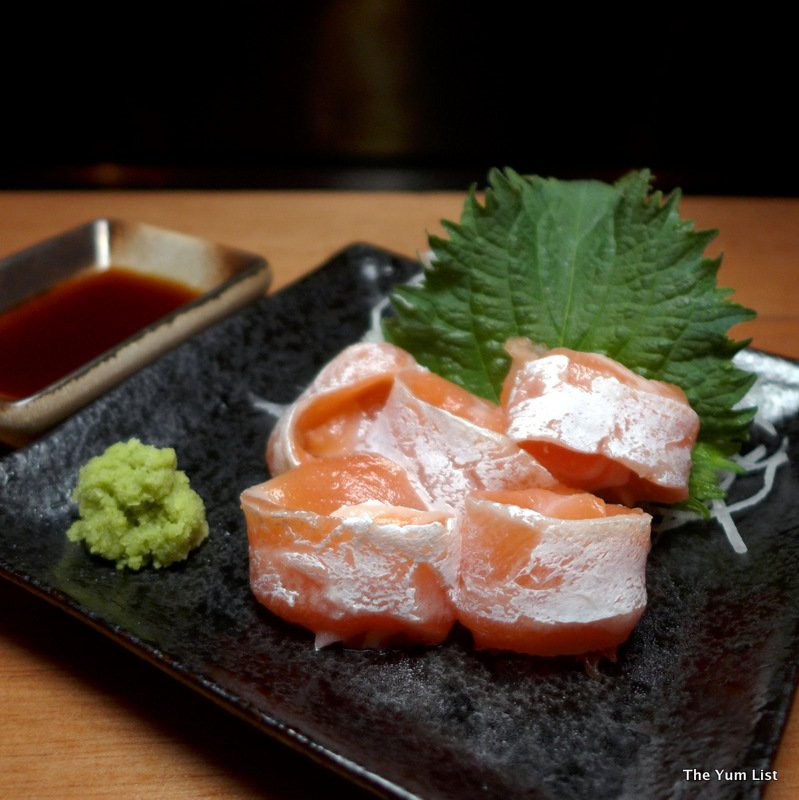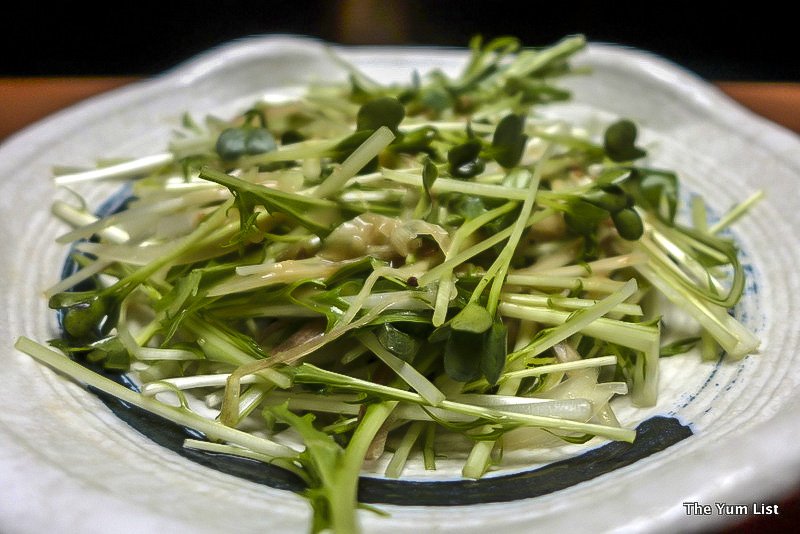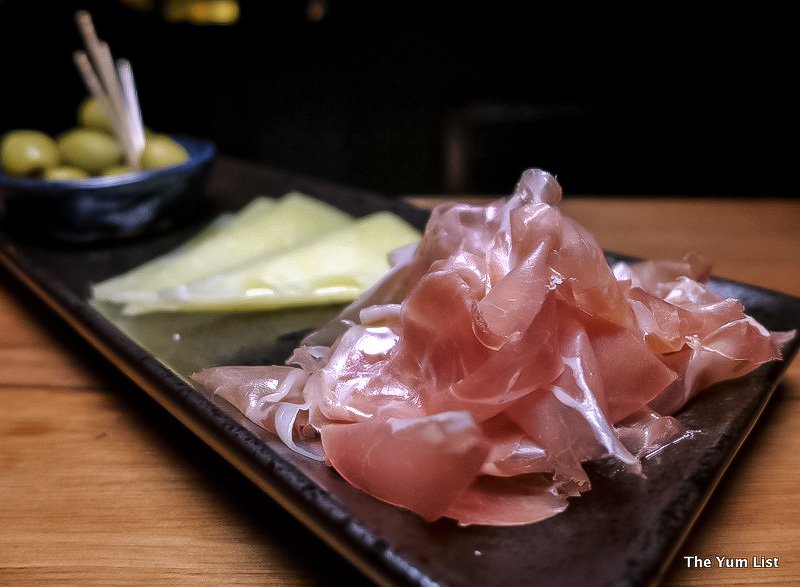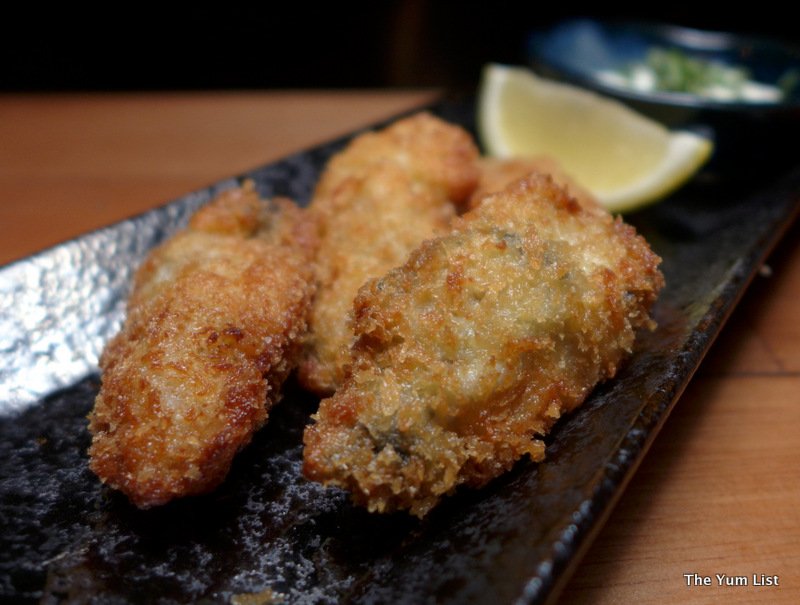 In between, we cleansed our palates with a truly unique and quenching palate cleanser that consisted of fresh, crisp cabbage leaves sprinkled with ponzu sauce.
Yakitori
We so wanted to leave room for the yakitori experience, but everything leading up to the yakitori was incredibly tempting. The yakitori began with a variety of skewers from different parts of the chicken. First came a crunchy Chicken Skin (RM 5), which to a conjured up memories of chicharron. The Chicken Wings (RM 11) were juicy and cooked to perfection. The skewers of Breast Meat (RM 6) were also moist and tender, and delectably topped with a wasabi aioli. Then came the much-anticipated Chicken Hearts (RM 4) (anticipated only by the two Latinos at the table, not so much the Aussie), followed by the Chicken Soft Bone (RM 6), or gristle, a cartilaginous part of the chicken breast, which is definitely an acquired taste.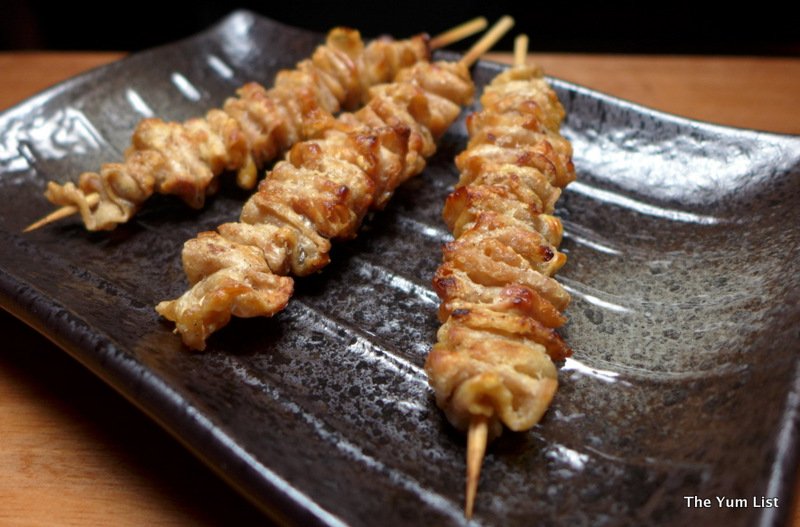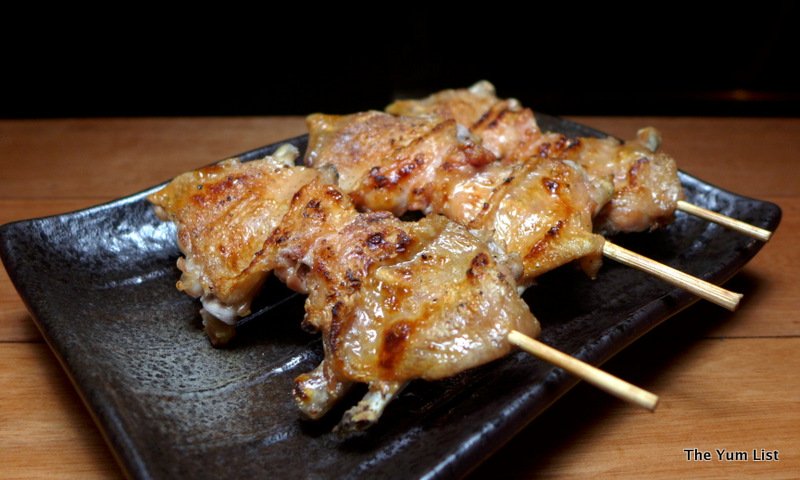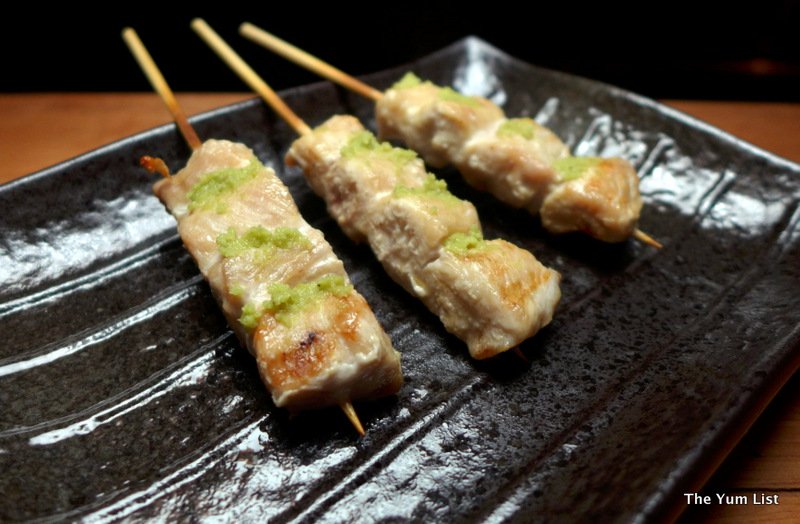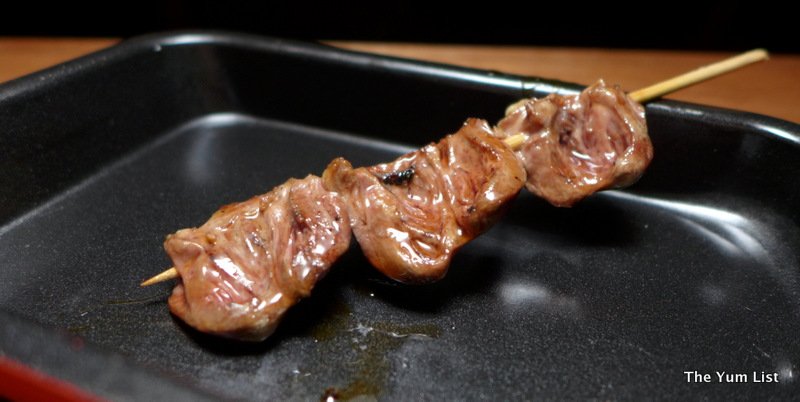 We also sampled several pork-based skewers. The Pork Belly, Dates and Blue Cheese (RM 9) was exquisite and a wholesome balance of salty and sweet and pungent, all in one mouthful. The Spanish Chistorra Chorizo (RM 8), which hails from Basque country, was served with toasted bread, contrasting the smoked paprika seasoning of the chorizo. Another unique combination was the Shishito (RM 9), a mild, green chili pepper stuffed with Iberico pork and mahon cheese, which melted in our mouths.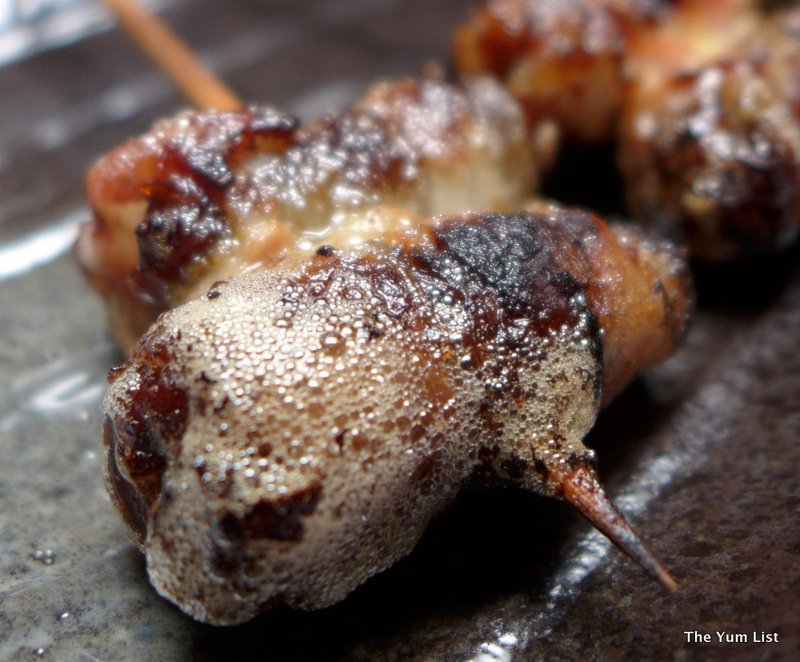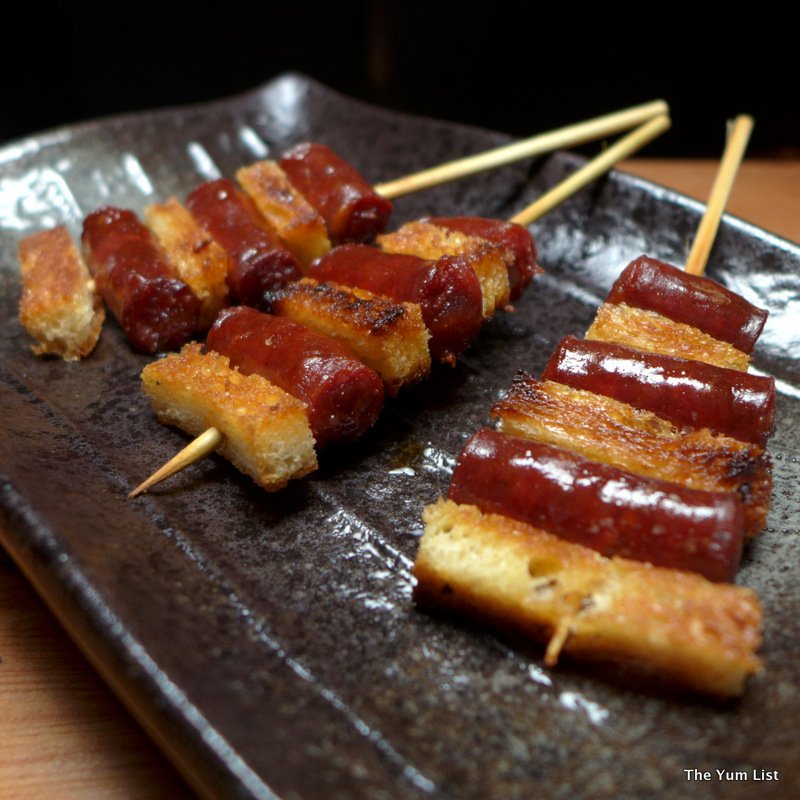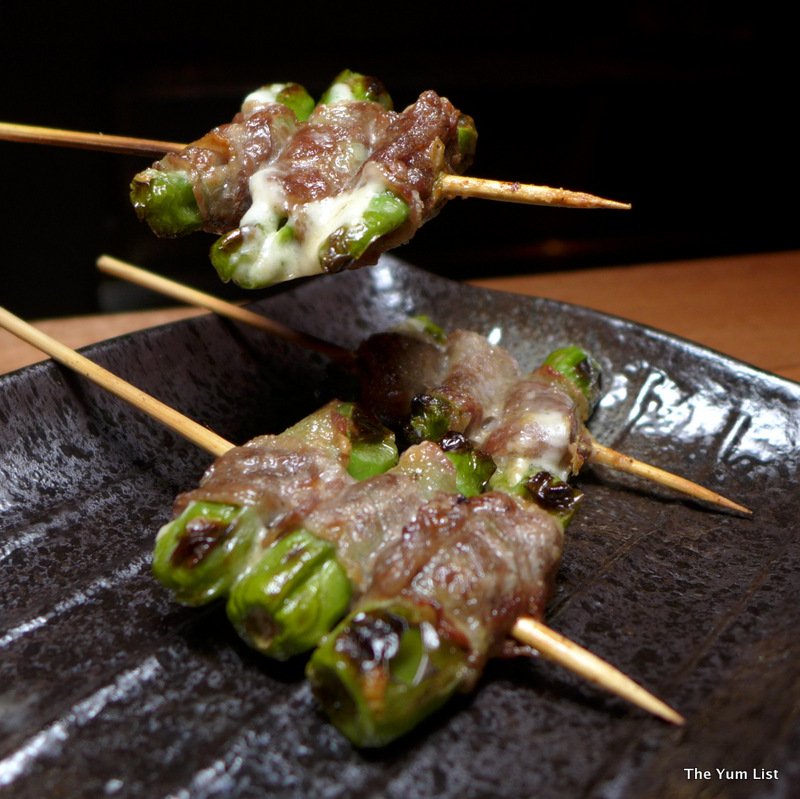 The seafood yakitori samplings included the delectable Spanish Octopus (RM 60), a requisite in any serious Spanish tapas bar. This consisted of a whole octopus leg prepared a la Gallega, boiled, grilled and topped with olive oil and paprika (pimenton). The Carabinero Red Prawn (RM 23) perfectly skewered, in a straight line, and did not disappoint, living up to their reputation for their sweet taste and unmistakable red hue.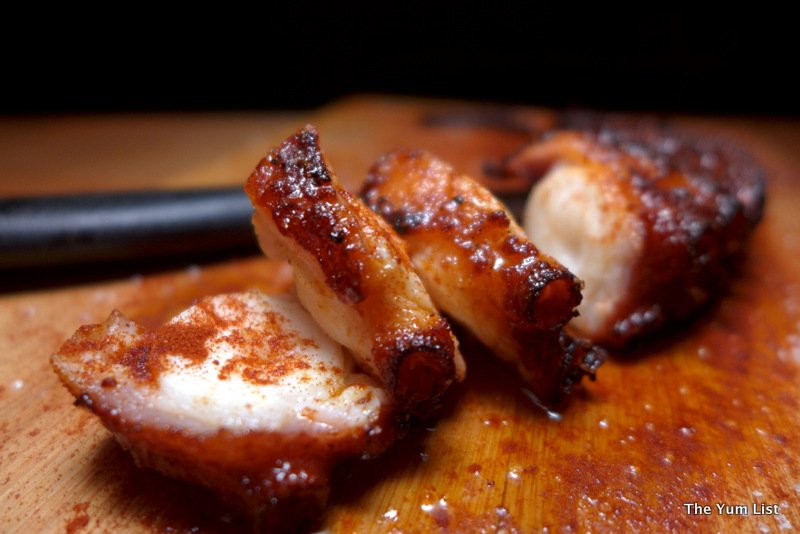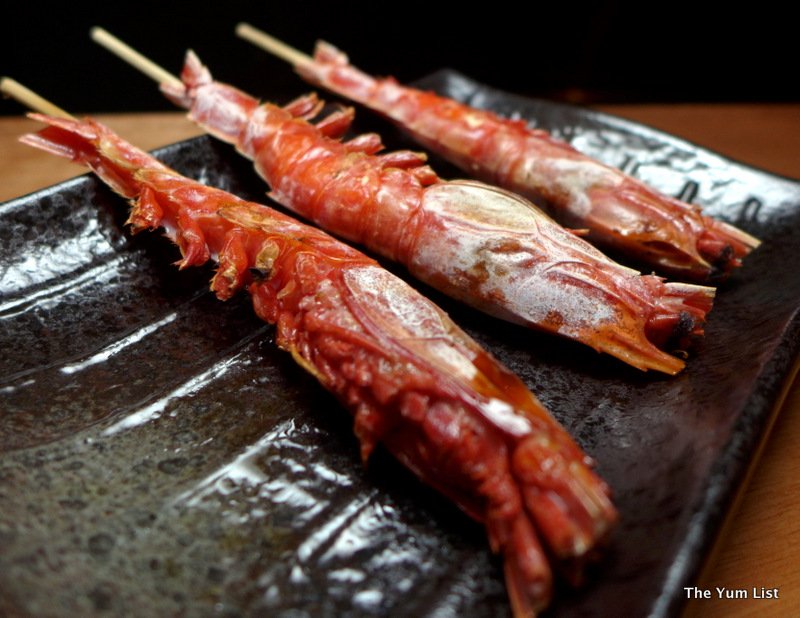 The menu at Palillos has some interesting vegetarian options, including a spectacular Fennel with Parmesan Cheese (RM 5), which turned out to be very tasty and light, as well as the Shitake Mushrooms (RM 7), which were also au gratin.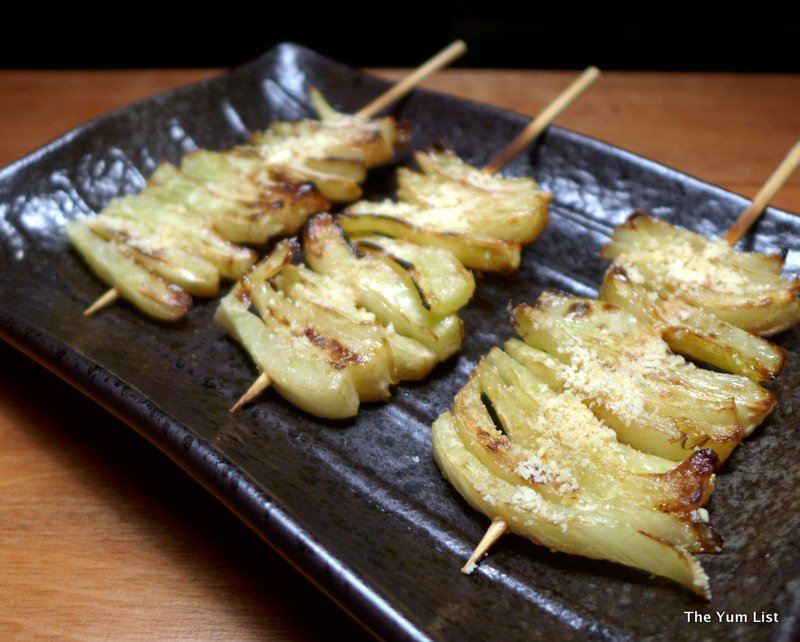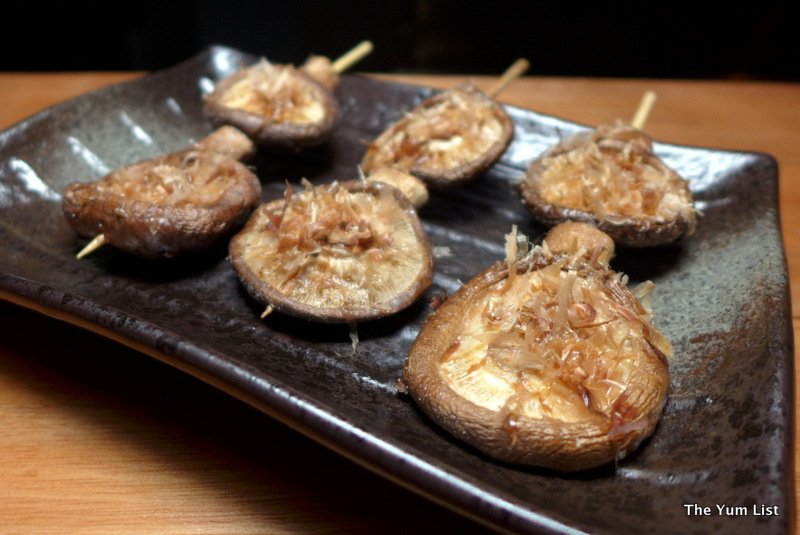 All of the yakitori skewers were accompanied by a dipping sauce or spread similar to a Catalonian Romesco, and consisting of roasted red peppers and garlic with the additional oriental touches of miso, and shiso, for a little kick.
Sushi
Much to our delight, the food kept on coming. Next up were the non-traditional sushi, like the Spanish Salted Codfish (RM 28), or bacalao, that glistened from the olive oil and tomato pulp, and the Temaki (RM 23) hand roll made of Iberico pork, kaiware, and shiso leaf, which we assembled to our individual liking.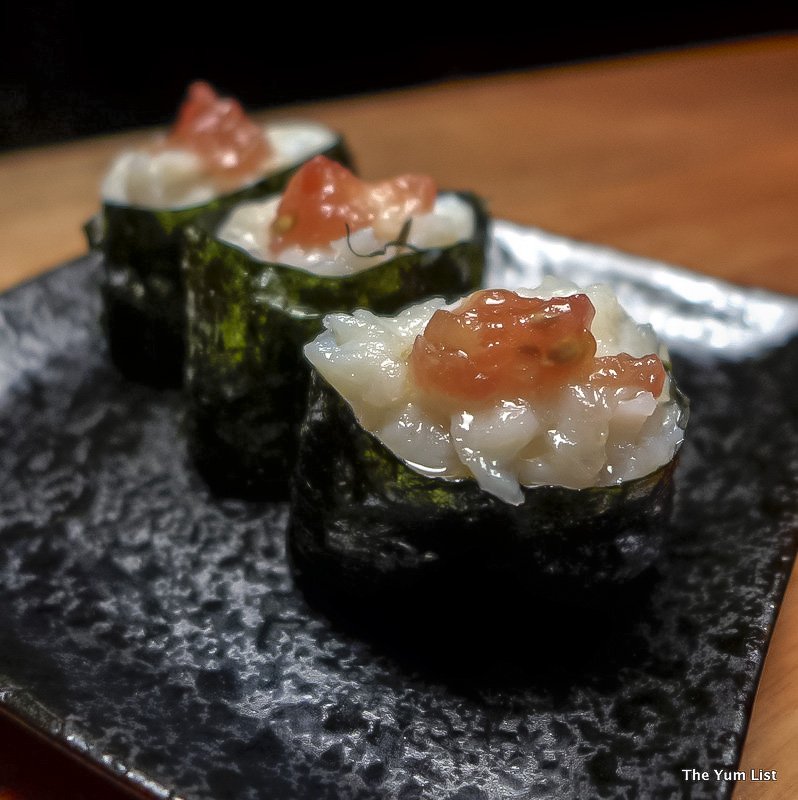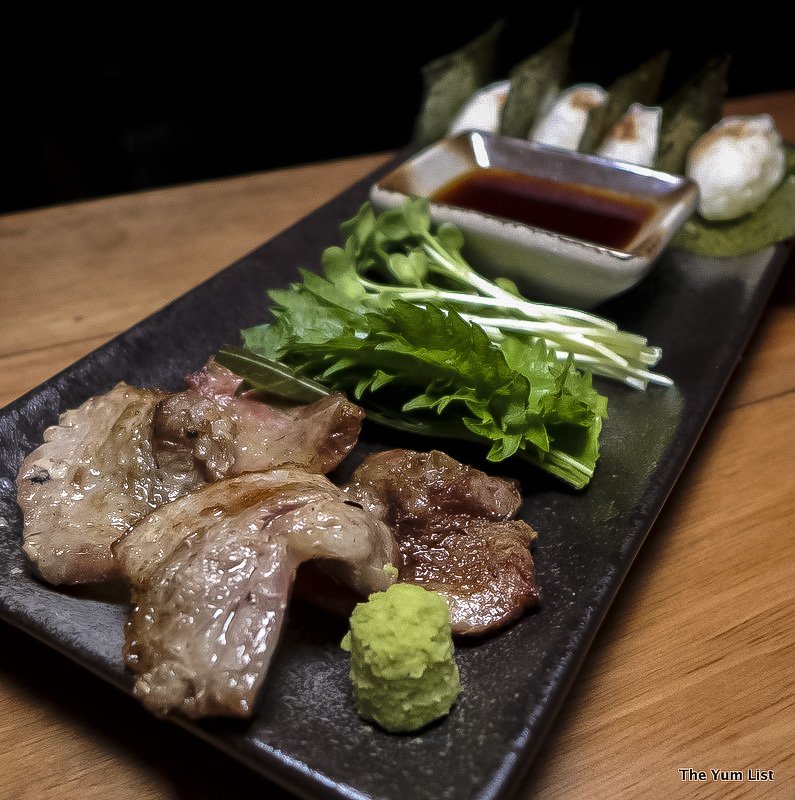 Cocktails
To accompany the massive Palillos sampling, we were offered a variety of spirits. Some artisanal cocktails included a potent Saketini (RM 25) (sake, vodka, shiso leaf), refreshing Yuzu Fizz (RM28) (Boodles gin, Yuzu citrus fruit, fresh lemon juice), and a kicky Espresso Martini (RM 35) (vodka, Kahlua, Crema Ruavieja, Lavazza Espresso), which pretty much was enough of a dessert for me.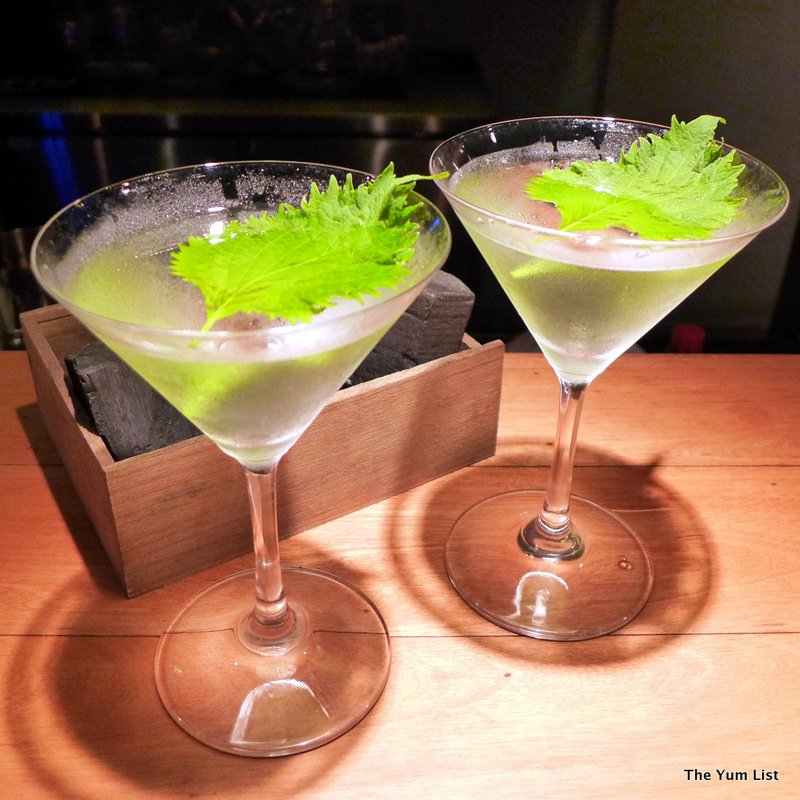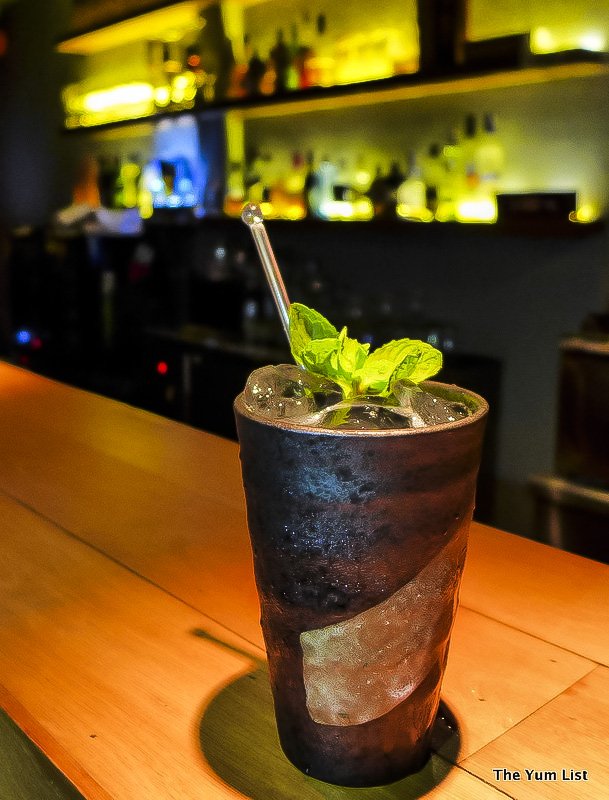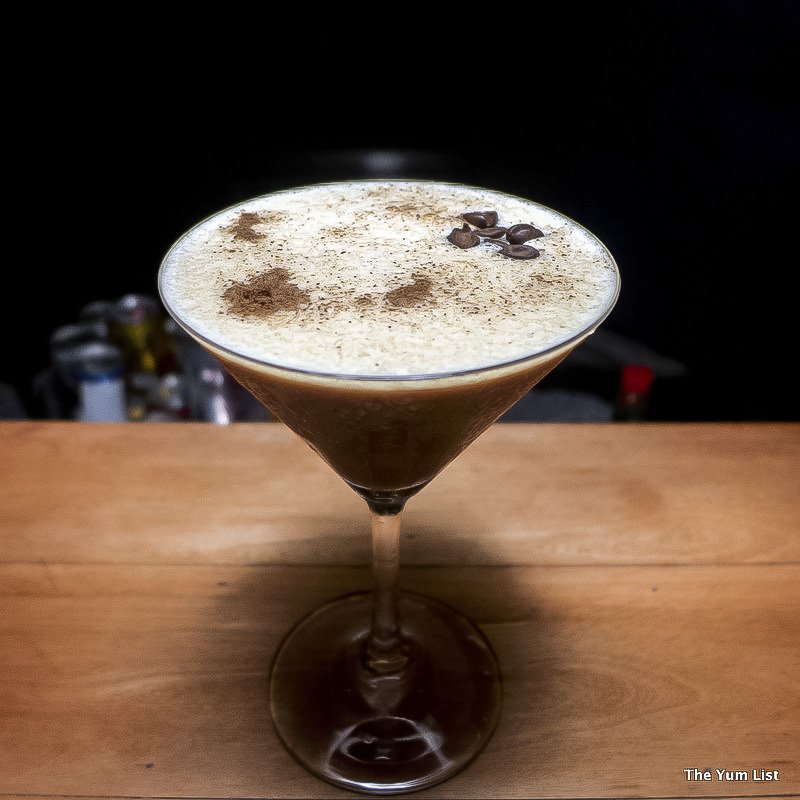 The sake presented to us, Kizakura Junmai Daiginjo (RM 200 per bottle) was one of the most formidably smooth I have ever tasted. In addition to sampling it in sake glasses, we also tried it in chilled wine glasses for an added cool blast. We were also treated to delightful Spanish wines: a crispy Ederra Rueda Verdejo (RM 26 per glass) white and a supple Viña Pomal Crianza Rioja Tempranillo (RM 26 per glass).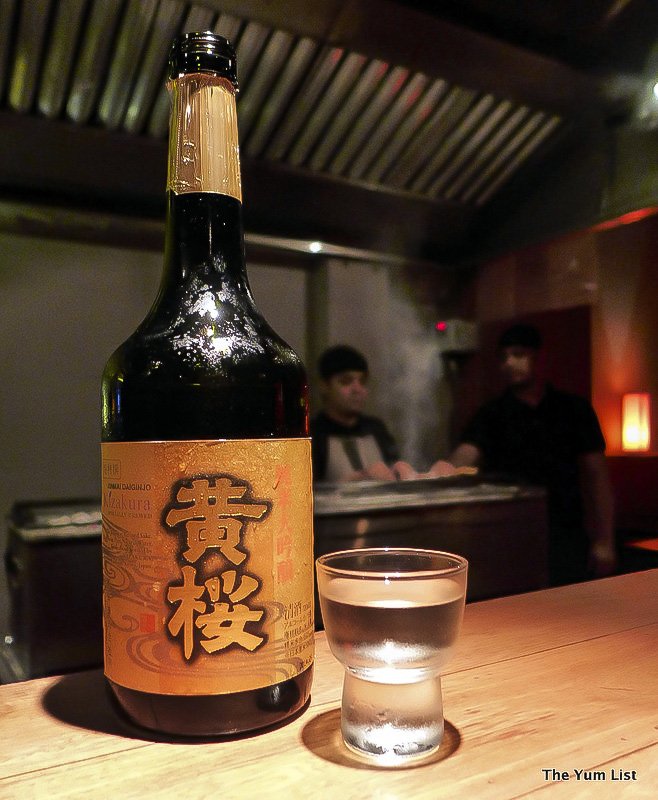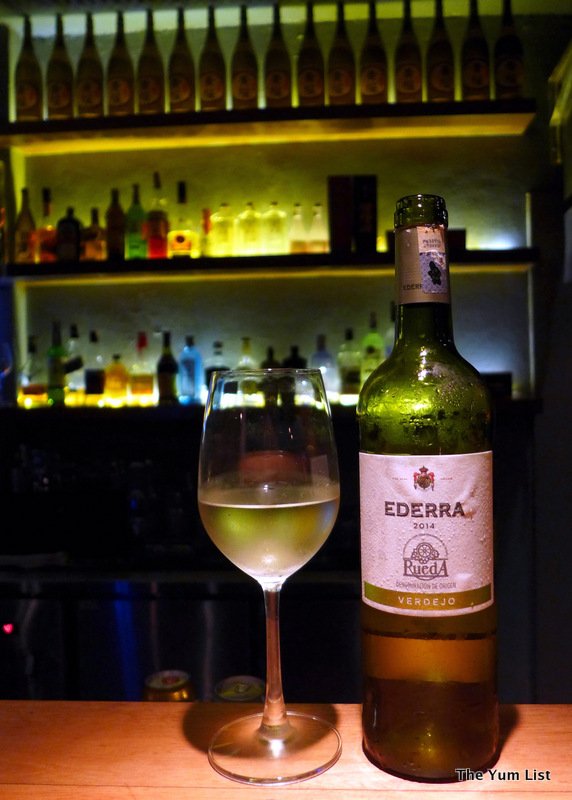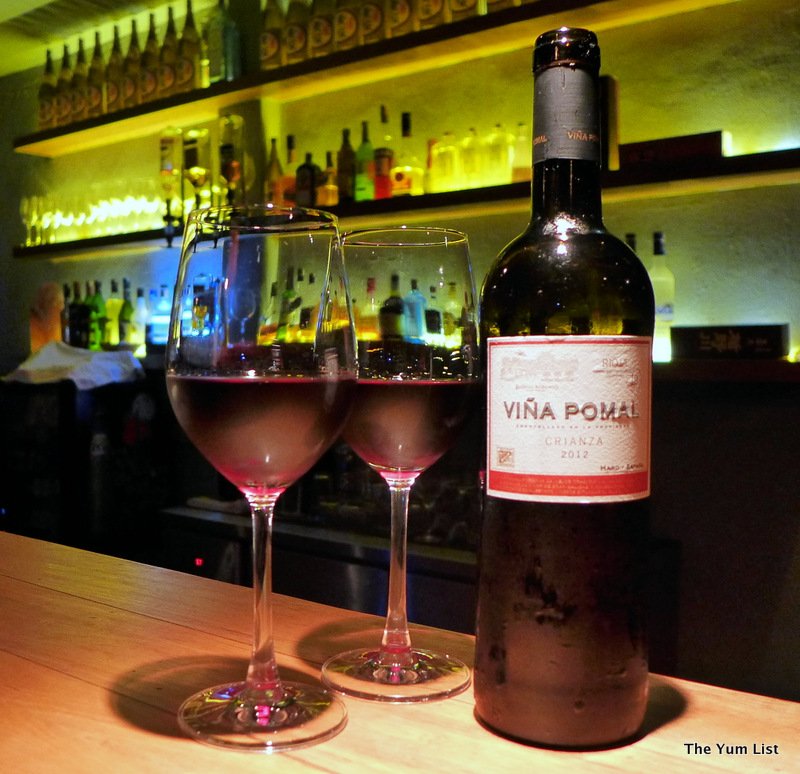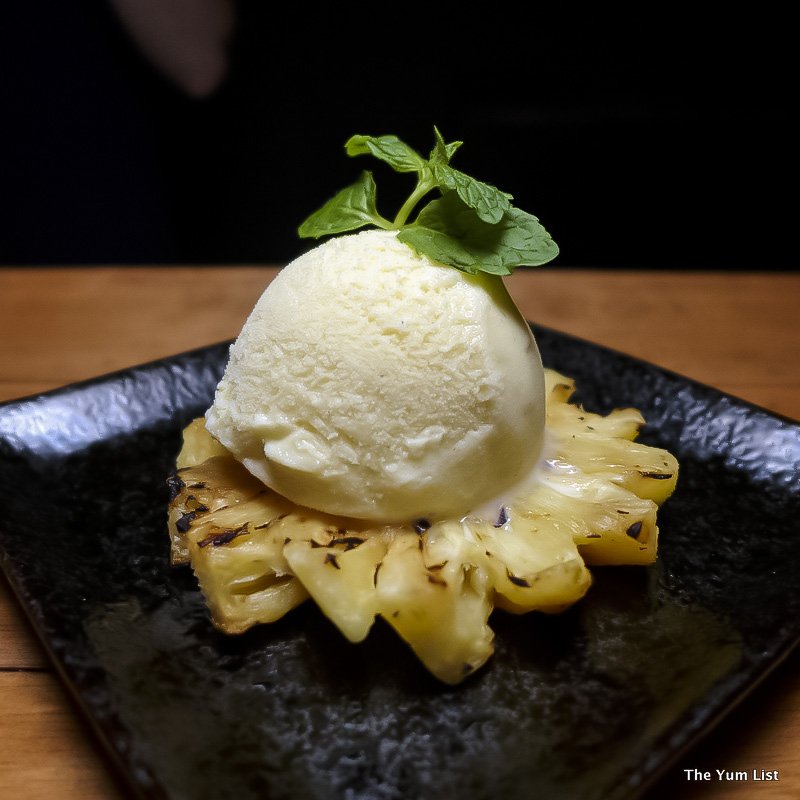 Reasons to visit: Experience a new twist to the traditional Spanish tapas; Have a fun night out with friends, delicious nibbles, and a wide assortment drinks.
Palillos
18a (1st floor above Pinchos)
Changkat Bukit Bintang
50200 Kuala Lumpur, Malaysia
+6 03 2110 5051
www.facebook.com/palillosyakitoribar/
(Visited 1,352 times, 2 visits today)