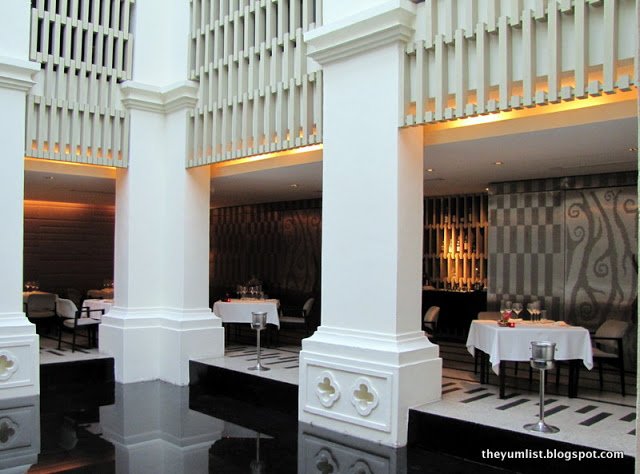 Frangipani Restaurant and Bar
Frangipani Restaurant and Bar
Words by Kirsten Durward
Photos by The Yum List
The inside space at Frangipani is classically elegant. Soft bluesy music pervades the space, which is given a light, airy and indulgent feel by the central pool and high ceilings. I feel I have passed through a magical door to a different world. Silvery grey tones pervade, the water glistens, and candles throw off dusky light and gentle shadows. The hustle and bustle of the street fades from my mind and the cares of the day slip off my shoulders as I know I am going to be well looked after.
Hungry, we nibble on our homemade bread, served with intriguing tomato butter. A pale, dry boutique champagne fizzes gently into flutes. The meal starts with Warm Pumpkin and Ginger Soup. Readers will know that I'm a soup fan and we all love pumpkin. This is something else. Really. This chef is a genius. Pumpkin flavours ring true, enhanced by ginger and deepened by shaved black truffles and just a drop of truffle oil. Edible flowers and crispy croutons add crunch and colour. The opening act of the meal has grabbed our attention. The champagne massages the tongue with a mousse like quality, its mineral notes drawn on by the flavours in the soup.
Warm Pumpkin And Ginger Soup RM 25++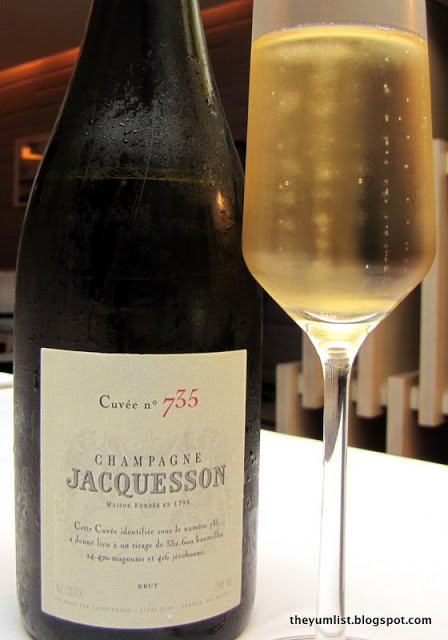 Champagne Jacquesson Cuvée n◦ 735, Brut, N.V, Dizy Bottle RM380++ Flute RM78++
Perched plaintively on the plate is a pink tiger prawn, marinated in an almond soup that sweetens the flesh and intensifies the flavour, a mouthwatering morsel enhanced by the salty flavours of sturia caviar. It's the sea on a plate in the best possible way. Our accompanying white burgundy has oakish undertones with apple top notes, on tasting, the toasty butterscotch depths melt over our taste buds. It's a light bodied wine that balances perfectly with the seafood bites.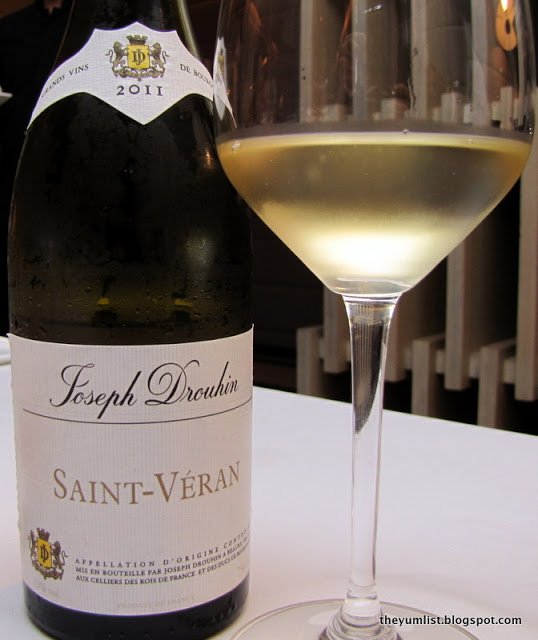 Burgundy Saint-Véran, Joseph Drouhin, 2011, France Bottle RM195++ Glass RM40++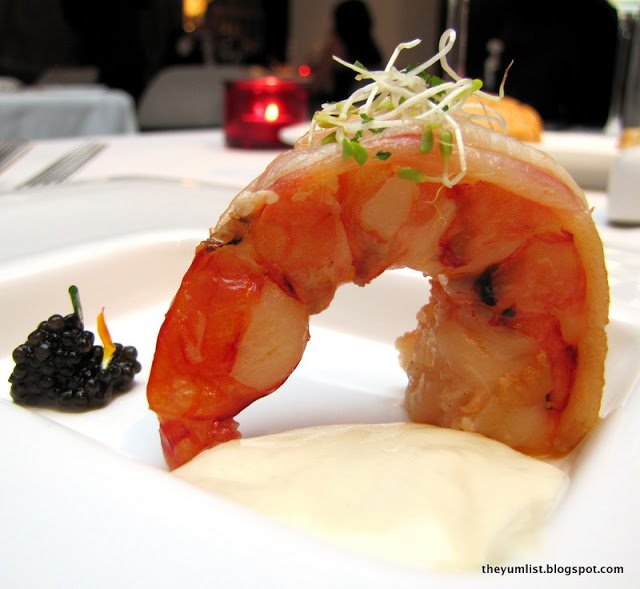 Sauteed Tiger Prawn RM55 ++
A flllet of black cod glistens on the plate. Its firm texture is lush and springy, flaking apart in the mouth. Cod's a tricky fish to get right, but this piece is perfectly cooked. Butter notes on the crisp asparagus moisten the palate and the dish is coloured by an accompanying complexity of mushrooms. The delicious dish is elevated to new heights by the companion wine, a creamy white burgundy with a fruity intense flavour and great depth for such a young wine. It's a divine partnership and we are all groaning with pleasure.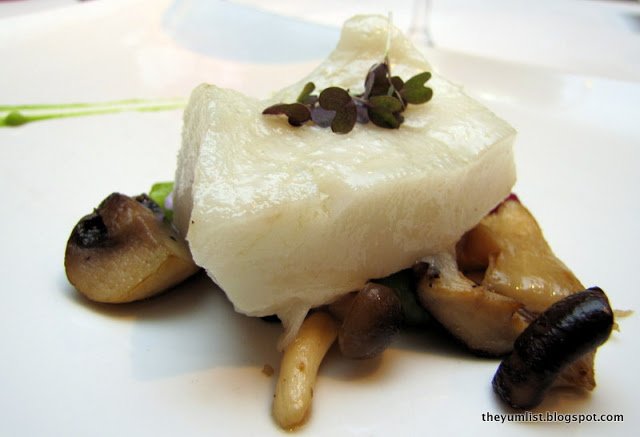 Confit Fillet of Black Cod RM90++
The food architecture of the main courses mirrors the interior architecture of the restaurant. Space surrounds us and space is cleverly used on the plates in front of us to create dishes appealing to the eye as well as delectable to the tastebuds. Our next dish is a glistening piece of Wagyu Rump steak. Well grilled on the outside, pink and juicy on the inside, true meaty flavours merge with the peppery Romesco Sauce. Each bite of beef is another reminder that sometimes the simplest cooking with fabulous ingredients is what pleases the most. The intense flavour of the beef develops the dark fruit aroma of the deep red Tinto Fino we are sipping on. It's an elegant wine, for an elegant setting.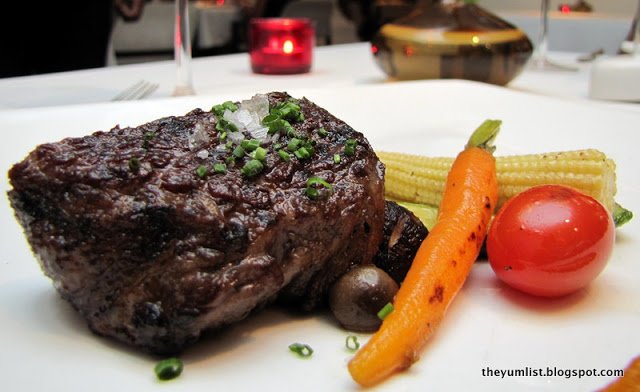 Grilled Wagyu Rump RM120 ++
We are served a palate cleansing shot glass of fresh strawberries in a citrus jus. It's light and refreshing and gets us ready for the final course of our banquet.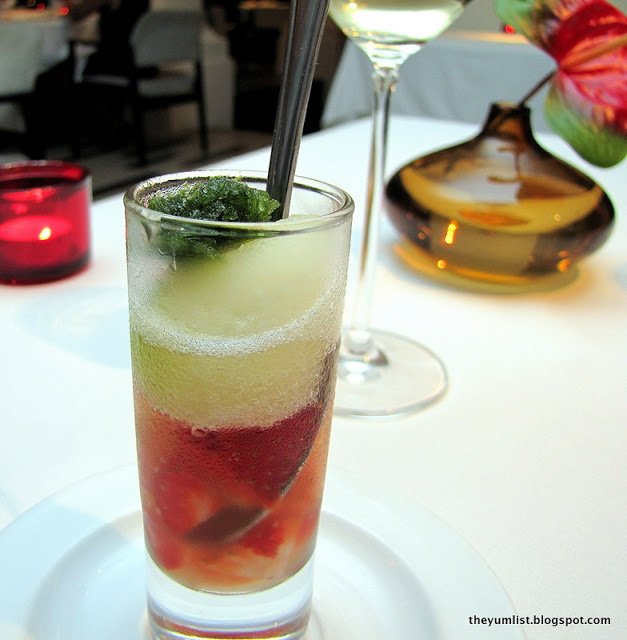 Palate Cleanser
I love dessert wine and so rarely get to taste it. This is one of my favourites which I first tasted at 17 years old, a delectable Muscat Beaumes de Venise. The deep golden yellow colour glows in the candlelight, and a first inhale reveals a delicious deep aroma. On tasting, it's aromatic and full; not excessively sweet, and pairs beautifully with the delectably light Crème Catalana that we are happily spooning down. It is a wonderful way to end a marvelous meal.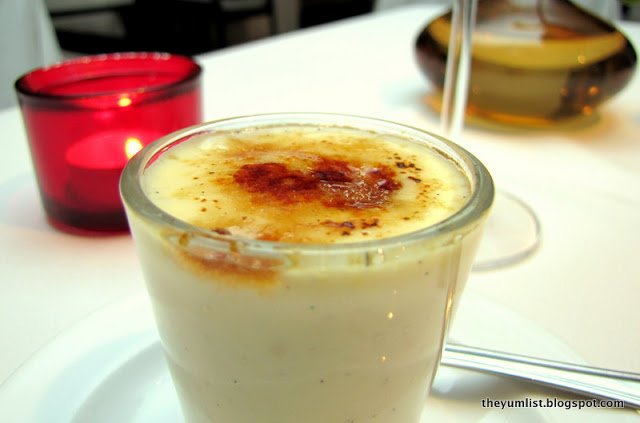 Crema Catalana 'Foam'
Frangipani offers a degustation menu with wine and food pairings and if you want to experience the joy of wine and food matching, this is something to treat yourself to. Based on our experience, there is some masterful thought going into the wine – food matching, take advantage of this expertise. Frangipani is a seriously good restaurant for people who appreciate great food, great wines and great service, really comparative to a fine dining experience in Europe or elsewhere in the culinary world.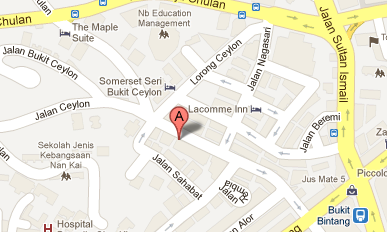 Map to Frangipani
Reasons to visit: Elegant dining in an understated atmosphere, high quality European style dishes with amazing flavours, a wonderful range of wines.
Frangipani
29 Jalan Changkat Bukit Bintang
50200 Kuala Lumpur
Malaysia
+6 03 2144 3001
(Visited 334 times, 1 visits today)