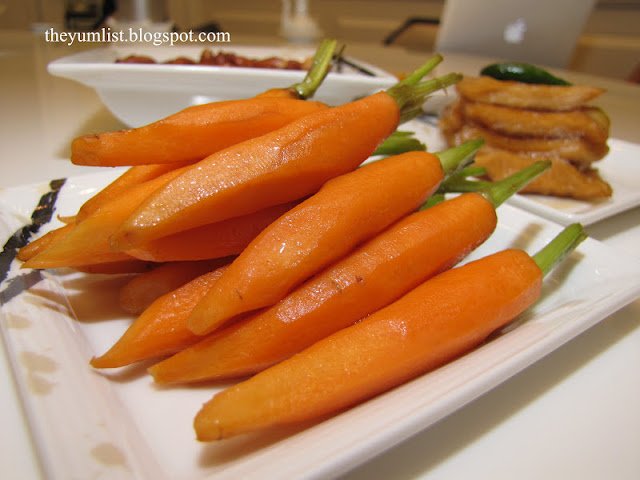 Soy and Coriander Marinated Baby Carrot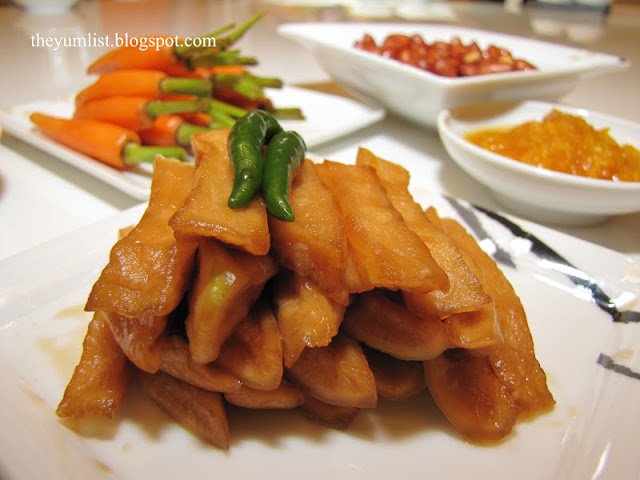 White Soy Sauce, Vinegar and Chili Pickled White Turnip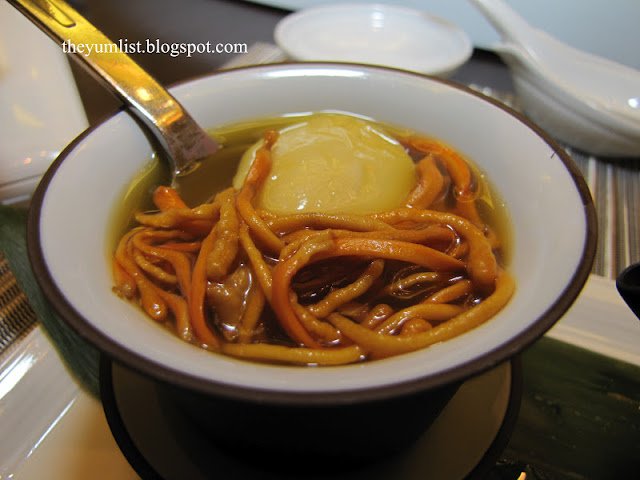 Double Boiled Kung Fu Soup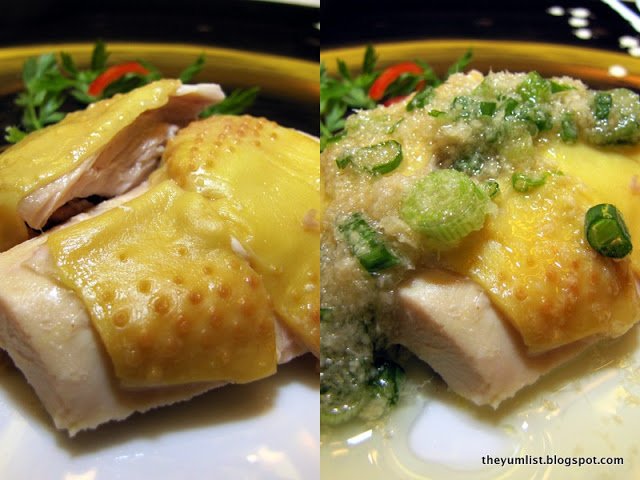 Tanniu Wenchang with Young Ginger Sauce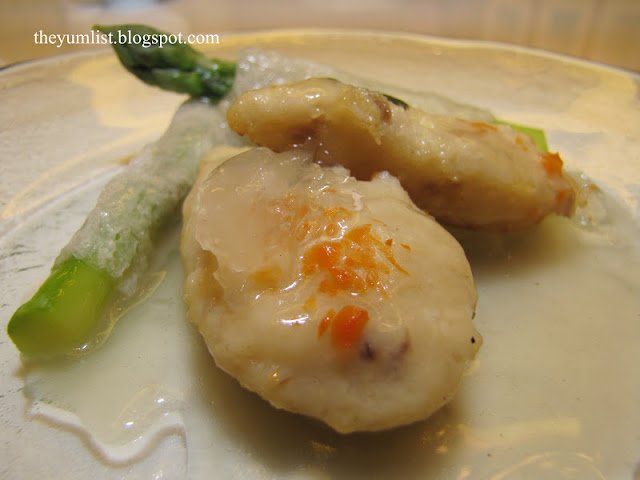 Homemade Tofu in Superior Sauce, Bamboo Pith, Bird Nest and Asparagus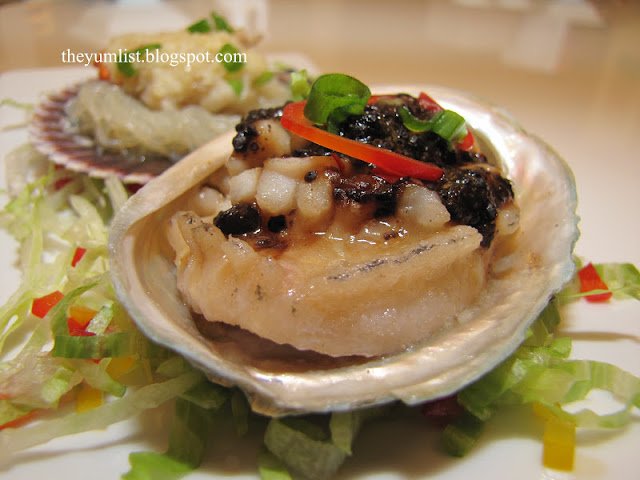 Steamed Baby Abalone with Black Bean Sauce and King Scallop with Glass Noodles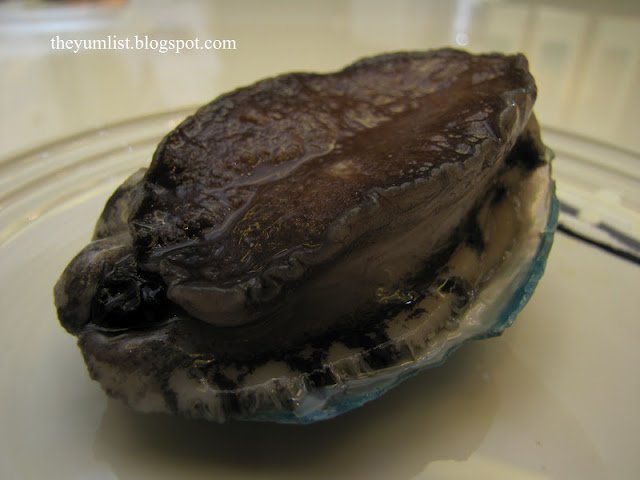 Fresh Baby Abalone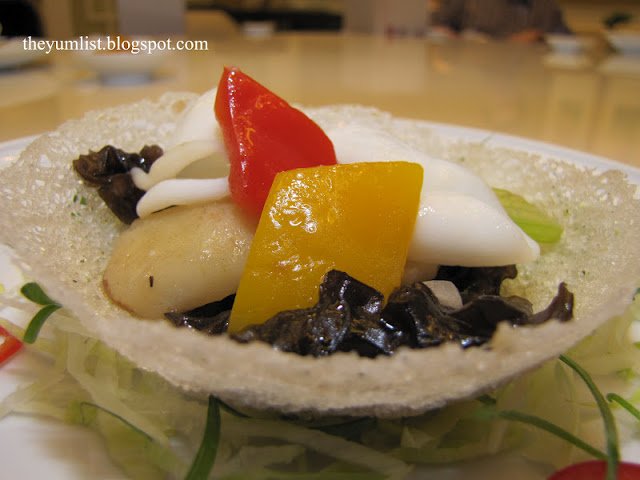 Lotus Root Sautéed Vegetables with Sliced Cuttlefish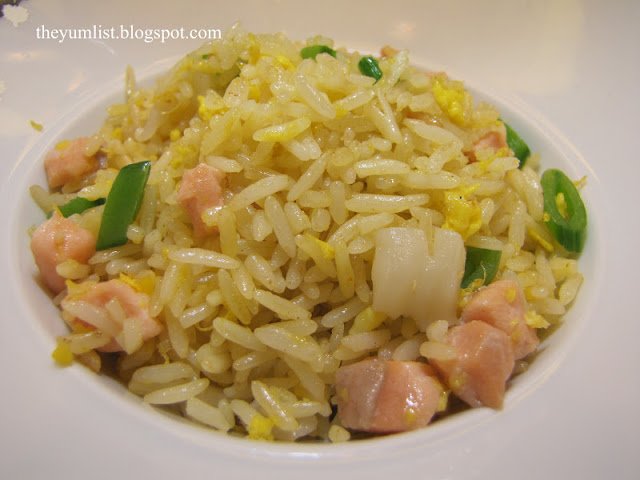 Fried Rice with Salmon and Scallops
Hainanese Cuisine at its Best, Lai Po Heen, Mandarin Oriental Kuala
Lumpur
For
10 days only, a visit to Lai Po Heen will reward you with a special menu by Master
Chef Leung Po Lam of Mandarin Oriental, Sanya. With over 30 years of culinary
experience, Chef Leung has many a prestigious restaurant on his resume
alongside a few Michelin Stars too. Stints in top hotels throughout China
including Hong Kong, Guangzhou and Macau, have equipped this chef with a wealth
of knowledge in the specialty of Chinese cuisine.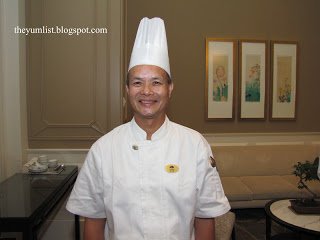 Chef Leung Po Lam
His
most recent post at the Mandarin Oriental Sanya in Hainan has taken Chef
Leung's skills to new heights through the exploit of regional produce and
exposure to local cooking methods. Surrounded by water, teaming with rivers and
peaked with mountains, Hainan presents unique ingredients, which are in turn
reflected in the native cuisine. As would be expected from a location
surrounded by the sea, seafood dominates the culinary scene. Abalone, sea
cucumber and sea urchin are known as Sanya's "triangle of ocean treasures." These
wonderous gems are celebrated in the menu, as the best of Hainan is brought to
Kuala Lumpur courtesy of Chef Leung and Mandarin Oriental. All ingredients
showcased in these sophisticated Hainanese creations are found naturally on the
island. None are farmed industrially and the chef is proud that the produce has
been sourced from the wild, maximizing on quality and freshness.
Knowing
very little about the subtle differences in regional Chinese cuisine, we were
thrilled to receive an invitation to sample a Hainanese menu, especially one by
a chef of Chef Leung's standing.
A
saliva stimulating trio of tidbits began our meal. Soy and Coriander Marinated
Baby Carrot was a pretty beginning reminiscent of a fresh country garden. White
Soy Sauce, Vinegar and Chili Pickled White Turnip caused further dribbling and
the Deep Fried Hainanese Peanuts with Black Vinegar were equally drool inducing.
An accompanying sauce made with Hainanese yellow chili paste and crushed ginger
had enough bite to leave the tip of your tongue numb with a mere dipping of the
chopstick.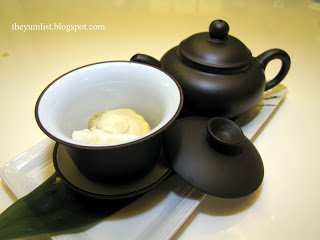 Double Boiled Kung Fu Soup
Double
Boiled Kung Fu Soup with fish maw and cordyceps (long orange Chinese herbs of
high regard) was a hit with all of our dining companions. Presented in a delicate
bowl with an accompanying black teapot, the soup was awarded its name because
the same pot used to serve the soup is also used for Kung Fu tea. The chef jokes
that after you've eaten this broth you too will know a few kung fu moves.
Next
came shells of beauty atop a patch of shredded lettuce and finely chopped
capsicum. An ocean duo of abalone and scallop were both delicate and
contrasting in texture and flavour. Steamed Baby Abalone with Black Bean Sauce was
something to sink your teeth into. Unlike many sea creatures that disappear
without even having to chew, this critter, flown in fresh from Hainan, is a
satisfying plate, coercing allowance of time to experience every bite before
vanishing. The King Scallop with Glass Noodles was of opposing texture to the
abalone. Soft and dissolving in seconds, the textured garlic sauce was all that
remained after what seemed like mere seconds on the tongue.
Taking
its name from the region on the island of Hainan that is famous for this dish,
is the Poached "Tanniu Wenchang" Chicken with Young Ginger Sauce. Similar to the
Malaysian endeared, Hainanese Chicken Rice, smooth slices of village bird are
topped with a crushed ginger gravy. A splash of soy sauce complemented the
gentle flavour of the recipe winning over our taste buds. Hainan is known for
its free-range chicken. These birds are not farmed but rather wonder around in
the wild feeding off grass and grain before being caught for dinner.
Homemade
Tofu in Superior Sauce, Bamboo Pith, Bird Nest and Asparagus, featured
vegetables picked wild from the jungle and, is supposedly a popular dish amongst
the ladies for its skin enhancing properties. Lotus Root Sautéed Vegetables
with Sliced Cuttlefish served in an intricately woven basket again highlighted
some of the best of the island's ingredients. The last main, of a seemingly
endless line up of the chef's finest works of art, was Fried Rice with Salmon
and Scallops. In what the chef describes as a plain dish, little seasoning is
used in an attempt to allow the natural flavours of the scallops and salmon to
dominate the palate.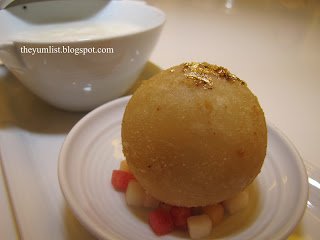 Dessert
The Creamy
Almond Tea with Egg White and Deep Fried Coconut Milk Spheres put an ear-to-ear
smile on hubby's face. A gentle white nut soup felt healthful with every
spoonful, while the chewy balls topped with gold leaf and oozing hot tropical
milk left no chance for self-deception into thinking it might be light on the
calories. Yunnan Pu Erh Tea was served throughout the meal, but a comprehensive
drink list is available with numerous teas and other beverages for your
choosing.
Available
for lunch and dinner only until the 23rd of September, the Hainanese
menu is priced from RM32++ onwards.
From
1- 30 September, Lai Po Heen also celebrates the Mid-Autumn festival with a
myriad of innovative mooncake flavours. Both the classic baked and new snow
skin mooncakes are at one's disposal. Priced from RM14++ onwards per piece,
don't miss the once a year excuse to indulge in the dense pastries. Mandarin
Oriental Kuala Lumpur does presentation all too well and mooncakes are no
exception. Beautiful fabric covered boxes, fitted with golden plaques can be
purchased to giftwrap your treats.
Reason visit: A traditional Hainanese menu available only
until September 23rd made from ingredients grown on the island of
Hainan. A variety of mooncakes in beautiful presentation boxes.
Lai
Po Heen
Mandarin
Oriental Kuala Lumpur
Kuala
Lumpur City Centre
50088
Kuala Lumpur
Malaysia
+6
03 2380 8888
(Visited 114 times, 1 visits today)