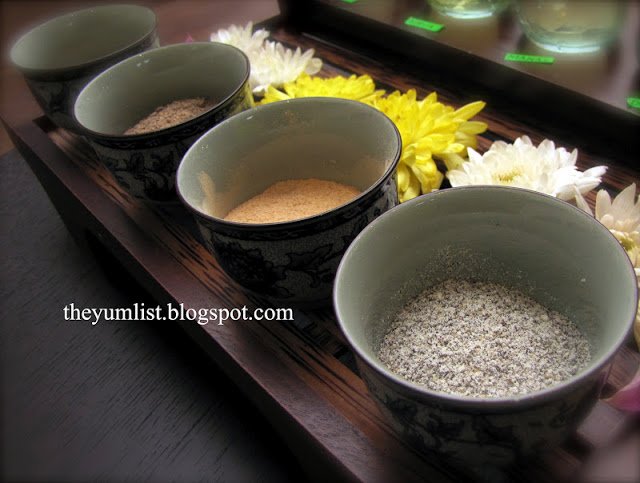 Choice of Scrubs for Treatment at Bhuvana Spa Luxe, Best Western Premier, Kuala Lumpur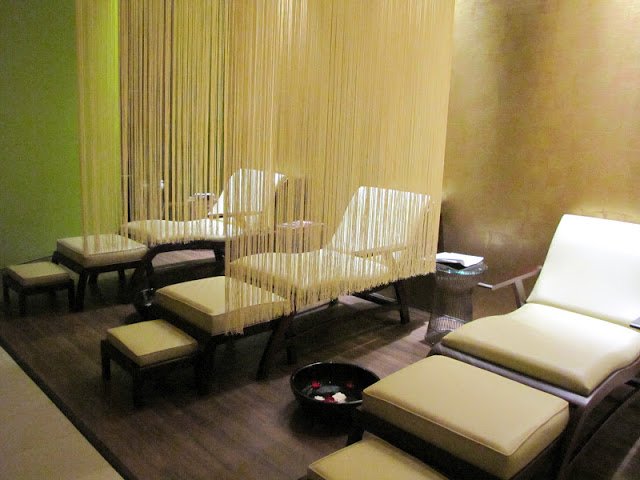 Reflexology Room
Massage Oils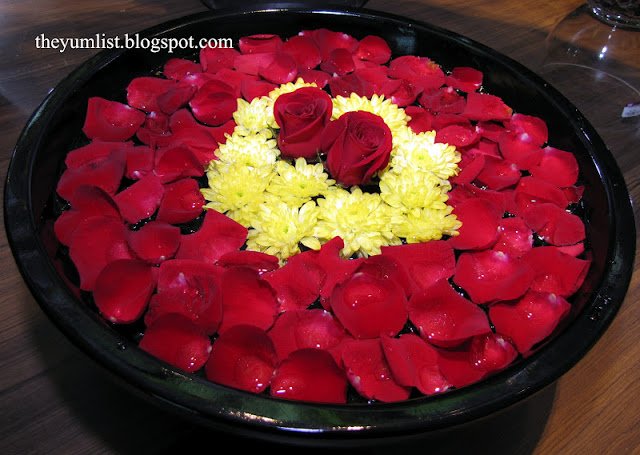 Rose Petal Bath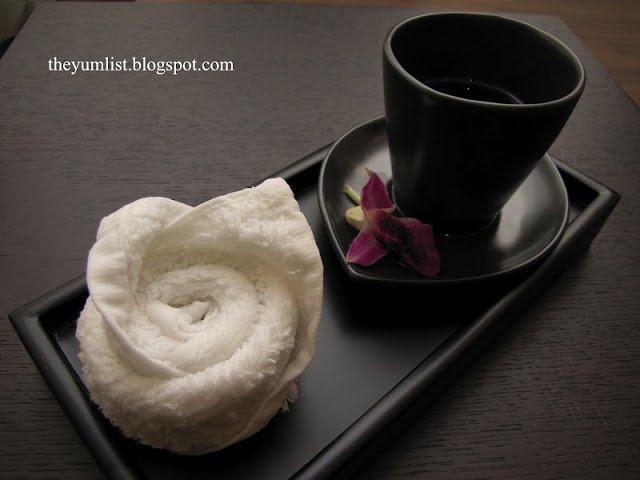 Ginger Tea and Moist Towel
Bhuvana Spa Luxe, Best Western Premier, Dua Sentral, Kuala Lumpur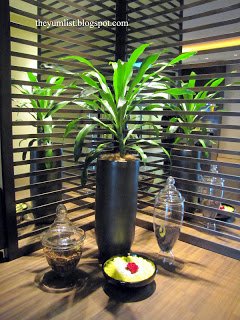 Entrance
Gently lit and softly scented, the entrance to Bhuvana Spa Luxe at Best Western Premier Kuala Lumpur invites you to slow down and consider your state of mind and body. Contemporary design exhibits clean lines and warm tones, encouraging tranquility and rest. Floating flowers, luxurious spa products and unobtrusive artwork induce an agreeable atmosphere. This world-class spa, originating in Thailand, serves the needs of both in house guests of Best Western Premier and outside clients seeking relaxation alike.
Therapists are trained regularly by a master trainer from Thailand in a number of treatments drawn from 'exotic ancient cultures and traditions, combined with modern expertise.' With the goal of healing by invoking a sense of harmony and rejuvenation, Bhuvana Spa Luxe specializes in a variety of massage, body and facial treatments. For the ultimate relaxation of body, mind and spirit choose from the Bhuvana Blends packages combining facial, scrub and massage and also benefit from significant savings to the pocket.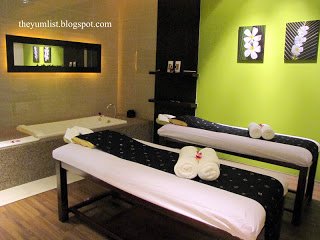 Couple's Treatment Room
The Bhuvana Signature Massage enticed us both. This 60 minute massage combines a number of specialized techniques designed exclusively for Bhuvana. 'A blend of Thai massage, foot reflexology and long-stroke massage movements, knead through the energy line with herbal oils.' It's advertised as being great for sore muscles and jet lag and inviting a feeling of complete inner calm. While not being jet lagged, we were straggling due to a number of late nights and too much of a good time. Hubby had sore muscles from his morning workout and I can always do with some inner calm, so this selection seemed just right.
Hydrated with ginger tea and cooled with a moist towel we were ushered to a couple's room. Equipped with pebble-tiled bath, private toilet and shower, locker, twin massage beds and adjustable lighting, the room extended sufficient space while maintaining a feeling of coziness.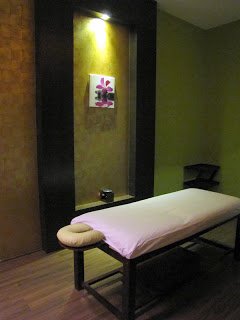 Single Treatment Room
Changed into our disposable undies and prone on our tables, the treatment began with our feet being bathed with a warm moist towel and pressure placed along the arc and heel of the foot. A low pillow placed under the feet relieved pressure from the lower back. The massage proceeded with a well-refined system of pressure, long strokes and kneading. My masseuse's firm hands did wonders for my muscles and especially my consistently tight shoulders and neck.
Generally, I'm not fond of stomach massage. I've always had a sensitive tum, not liking waist squeezing pants or belts I often turn down the final part of most massages. For an unknown reason this time though I went through to completion. This stomach massage was not my usual uncomfortable experience. It seemed to aid in digestion and relieve some of my bloating. Long strong S strokes around my curves and firm pressure pushing my navel towards my spine had a therapeutic effect.
Slowly brought out of our dreamy state, the therapists left us alone in the room to shower and redress. Another round of ginger tea awaited our exit and gave hubby and I time to exchange notes. Concurring that this experience was up there with our top massages, we were tempted to make another appointment straight away.
Bhuvana Spa Luxe is open daily from 10am to 10pm. Reservations are highly recommended and arriving 10 minutes before your scheduled treatment will allow you to maximize your spa experience. Prices range from RM50 for a 30 minute Aromatic Floral Bath up to RM540 for The Ultimate Bhuvana Relaxation package of three hours including a body scrub, massage and facial.
Reason to visit: absolute pampering in your choice of individual or couple's rooms, variety of massage, facial and body treatments, highly trained therapists
Bhuvana Spa Luxe
6th Floor
Best Western Premier
8 Jalan Tun Sambanthan
50470 Kuala Lumpur
Malaysia
+6 03 2272 8888
(Visited 208 times, 1 visits today)